Soon after yesterday's announcement of the 2010 Emmy Award nominees, the usual critical backlash has followed.
While we were thrilled over surprising, well-deserved nominations for stars such as Kyle Chandler and Connie Britton from Friday Night Lights, there were plenty of snubs to go around. None more glaring than the omission of Katey Sagal in the category of Outstanding Actress in a Drama.
Her portrayal of Gemma on last season of Sons of Anarchy was as powerful as anything on television.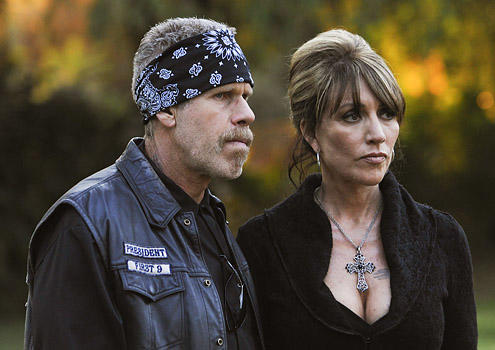 Kurt Sutter certainly agrees with that. The series creator (and Sagal's husband) lashed out at Emmy voters in his most recent blog entry, taking subtle shots at Glee and Mad Men along the way. He wrote:
We are the dirty-faced outlaws who no one wants in their clean white town.  We are too loud, too violent, too brash.  We don't sing, have pretty sets, or wear retro suits.  They admire us from afar, wish they could do what we do, then they pull the shades and settle for the familiar and safe.  They are lazy sheep.
Sutter went on to say something not very nice about Mariska Hargitay, or at least about the fact that she was nominated over Sagal.
What's our take? There's no doubt that Sons of Anarchy is one of the best shows on TV and Sagal shouldn't just be up for this award - she should win it in a landslide.
It's clear Emmy voters don't typically reward the top performances, they just choose what's safest.
Matt Richenthal is the Editor in Chief of TV Fanatic. Follow him on Twitter and on Google+.