Storylines are starting to come together on True Blood.
This week, Sam may have acted like a moron, and Tara may be unable to get through a scene without crying, but we learned a lot more about the King of Mississippi's plan and met Debbie Pelt. Let's go over the highs and lows of "9 Crimes" now...
We fucked like only two vampires can. Ouch, Bill! If the goal was to break Sookie's heart and give her the worst news possible, Bill definitely succeeded. But he may have done too solid of a job, as such random, harsh words only made Sookie angry and piqued her interest in his whereabouts.
He may be protecting the ones he loves, but Bill has now crushed Sookie, ratted out Eric and killed a stripper. How far will he go in his mission for the King?
Also great about this scene: how it played out similarly to many real-life break-ups, as Sookie analyzed every word Bill said (he doesn't wish to be found, he didn't say he anything about seeing her again, etc.). That's what many women would do in such a situation - they just wouldn't be doing it with a vampire on the other line.
It's Bill Compton! With these words, Pam pointed the finger at Bill and tied the V-selling storyline into his disappearance. That works for me. Eric and Bill are at their best when in opposition to one another. Eric now has a reason to track down Sookie and work with her to find Bill... while also possible discovering the "skills" she claimed to possess in that dream. Hot stuff.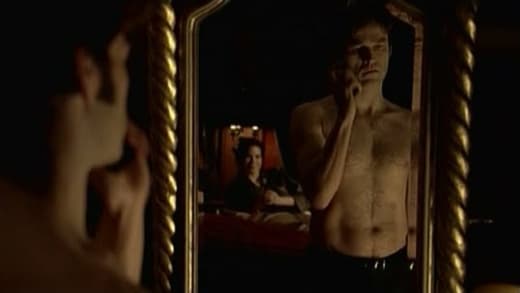 Sometimes I think that boy's cheese done fall right off his cracker. Mrs. Mickens was referring to Tommy with these words, but she might as well have been talking about Sam. Come on, dude. Can you really be this gullible?!?
If there's one thing I miss more than sunshine, it is good fruit. Franklin is intriguing (and funny). I still believe he has good intentions, but he isn't going about his business that way. While Tara is clearly in a difficult position, it would be refreshing to see that strength Franklin says she possesses.
Or at least to see her not cry in every scene. Just once. You can do it, Tara. I believe in you!
Drink!
This was the instruction the King gave to the werewolves, as we learned he's been supplying them with his own blood for years. (The Magister will NOT like this one bit.) Does he still wish to take over the Queen's territory? Probably. But at what cost and for what purpose, it now must be asked.
Denis O'Hare plays this role perfectly, never raising his voice, always seeming in control and creeping us out with just one smirk. At some point, it's safe to assume Bill will confront Alcide or vice versa - and, for Bill's sake, let's hope both are wearing shirts when this goes down.
Because Alcide would even give Jason competition in a battle of best bodies. Am I right, ladies?
What did you think of the episode? Discuss it now in our True Blood forum!
Matt Richenthal is the Editor in Chief of TV Fanatic. Follow him on Twitter and on Google+.