Big Brother Review: The Fourth Evicted Houseguest is ...
Steve Marsi at .
"Kristen, YOU are the DEFINITION of the word b!tch. Who do you think you ARE trying to talk to Brendon behind my back? Don't ever, EVER try to get between me and MY man ... My man doesn't get manipulated by triflin' hoes like you." - Rachel
Man, she's painful. Rachel has definitely proved herself as one of Big Brother 12's stronger players so far, but wow. Girl has some serious issues ... and an annoying laugh.
As we predicted after Britney pocketed this week's Power of Veto, Kristen was up against it at the eviction ceremony - though she certainly managed to make it interesting.
Lamenting the end of their showmance, Hayden felt confident he had the votes ... which made Kristen wonder if he wasn't allied with some of the house's other alpha males.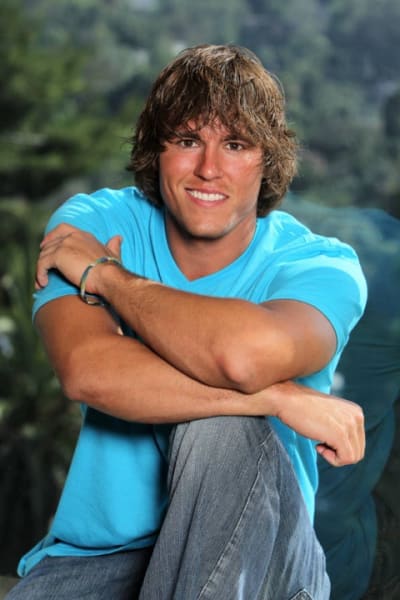 THE END OF A SHOW-MANCE: Placed on the block, lovebirds Kristen Bitting and Hayden Moss were suddenly focused on knocking each other out instead of knocking boots.
How was Hayden, who Brenchel is not exactly a fan of either, so sure he was sitting pretty, to the point where he was even encouraging her to fight to stay in the house?
Kristen started to put the pieces together, at least in part. She pleaded with Ragan, Britney and Brendon to keep her and thwart a potential Hayden-Lane-Enzo alliance.
If only she knew ...
While it wasn't the worst argument from a logical standpoint, sweeping the four votes needed to overcome the Brigade's three still seemed like a bit of a longshot for Kristen.
Before the vote, we were treated to some videos from the nominees' hometowns, and learned that Hayden's mom doesn't even trust Kristen. She thinks he's being played.
Then, an even more awesome revelation - Kristen has a boyfriend. Was Hayden's mom correct then? Not necessarily? This guy is as shocked as anyone at what she's doing.
Apparently they even had a conversation regarding whether she would be single on Big Brother, and she said no. Wow. That's not going to be awkward back in Philly at all!
In the end, any hope Kristen had of pulling off a 4-3 probably ended during her final plea to the house. She basically came off bitter and spiteful - toward Rachel especially.
We're not Rachel fans by any means, but what does Kristen expect? It always kills us when people take things so personally on a show whose premise is evicting people.
The vote goes 6-1 in Hayden's favor, with Kathy the lone vote to keep Kristen.
In his farewell video to her, Hayden reveals her suspicions were correct about the alliance - and it's called The Brigade, baby! Rachel, meanwhile, tears her a new one.
Moving on to next week's HoH competition, Julie tells us this week's winner carries special significance, given the temptation of Pandora's Box. If they choose to open it, they will unknowingly release a new Saboteur - Ragan, as America determined.
We'll see if that happens. For now, we're left hanging along with the housemates in an HoH competition of endurance. They're forced to hold onto a giant paint can while it spins in a circle. Paint is sprayed on them from time to time. Pretty standard.
Other news and notes:
America got it right with Ragan edging Enzo as the Saboteur. Great picks.
We wouldn't have pegged Ragan as the most flatulent house guest, though.
LOL at Enzo's reaction to learning Rachel threatened to put up Lane.
We still like our theory that Britney and Lane are engaged. Anyone else?
They may be weaker players, but Krayden is way cuter than Brenschel.
Pretty sure Matt wears pajamas with feet ... and skulls/crossbones.
Steve Marsi is the Managing Editor of TV Fanatic. Follow him on Google+ or email him here.