Arrested Development fans may be excited that Mitch Hurwitz is teaming up with Will Arnett for the new fall sitcom, Running Wilde, but there will still always be only one Bluth family.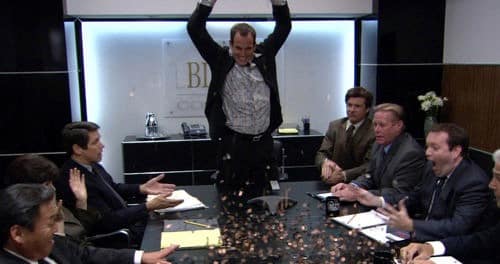 While we're busy waiting for the often rumored movie, we've put together the most complete collection of Arrested Development quotes from season two for your enjoyment.
So go ahead and browse the best lines from everyone's favorite dysfunctional family and vote for your favorites.  Here's just some of our favorites from the second season:
Gob: So, what brings you here, Michael? I hope it's not for a handout. I run a pretty tight ship around here.
Michael: With a pool table?
Gob: It's a gaming ship. | permalink
Lucille: It's not fair to Buster. He's a nervous wreck right now. He's going into the Army, for God's sake.
Michael: You volunteered him.
Lucille: I knew you were going to throw that in my face. | permalink
Michael: We have a private eye, huh?
Lucille: Oh, I hired him a hundred years ago to find out if your father was cheating on me. He never did find anything.
Michael: Well, he can't be very good then. | permalink
Michael: I think George Michael is hiding Ann in the attic.
Lindsay: From who, the Nazis? | permalink
Michael: You know, instead of competing with Tobias, why don't you try just spending a little bit more time with your daughter?
Lindsay: Why? Tobias doing that? | permalink
Maeby: What? So, I'm not invited to the Bluth Company Christmas party?
Lindsay: Oh, honey, of course you can go if you want to.
Maeby: Thanks, Mom.
Lindsay: No, you're not going to that. You see, if I show up with you, it'll just make me seem like I'm a mother.
Maeby: I've never thought of you that way. | permalink
Lucille: Give me a vodka rocks.
Michael: Mom, it's breakfast.
Lucille: And a piece of toast. | permalink
Lucille 2: You're embarrassed to be with me!
Gob: No, I'm embarrassed to be seen with you! | permalink
Lucille: She's trying to prove that she's closer to my children than I am, but the jokes on her because she doesn't know how little I care for Gob.
Michael: I think that makes the joke on Gob. | permalink
Car Salesman: Yeah, the Bronco's been discontinued. We're trying to shed that whole fugitive-on-the-run thing. This is the Escape.
George Sr.: What a fun name. May I test drive? | permalink
Gob: I figured out a way to make money while I'm working.
Michael: But that is what we call working. | permalink
Michael: This is your wife? I didn't realize you could remarry.
Ann's father: What?
Michael: Is this Ann's mother?
Ann's mother: I'm Mrs. Veal.
Michael: Sorry, I just did not expect somebody so ... young.
Ann's mother: Next you're going to say how Ann and I could be sisters.
Michael: No! I'd never say that. | permalink
Michael: Could we stop worrying about girls with low self-esteem and start focusing on sobering up the woman who gave us ours? | permalink
Gob: And guess what else ... Dad kissed me!
Michael: How? He looked pretty unconscious in that picture.
Gob: I didn't say he was totally into it! | permalink
Eric Hochberger is the programmer of TV Fanatic, so please forgive his mediocre writing. His programming is far better. Follow him on Twitter and/or email him. Just don't request threaded comments. They're coming.