Covert Affairs proved it's more than a one-woman operation this week.
The episode "Communication Breakdown" was all about Auggie, as Annie was pushed into the background and we learned a great deal about her best friend at work.
Soon after Annie discovered he was sleeping with Liza Hearn, Auggie scoffed and basically said: come on, you know me too well to believe that. But that's when it hit me - we don't really know Auggie at all. He's been a fascinating character to watch because Christopher Gorham does such a great job playing blind.
But what background did we really have on the guy until now? The episode made us understand why he has many reasons to be bitter toward the CIA, as that organization can truly take over one's life (something Annie learns in almost every interaction with her sister).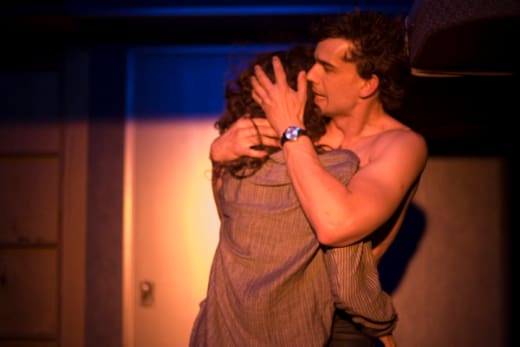 In just one hour, Covert Affairs made us feel bad for this ladies' man. We saw that he's very much capable of love, and also that even his bedroom dalliances can be tied into professional missions.
Then again, did you see Liza (Emmanuelle Vaugier) in her lingerie?!? I'll trade jobs with Auggie right now if he wants.
I also must give props to the show for resisting the urge to hook Annie up with Auggie or Jai. Seeds have clearly been planted for a little love triangle here, but the series is taking its time and just giving viewers the occasional flirting.
By doing so, it's establishing Annie as a strong female character, one that may use her looks and charm when necessary, but who is a capable agent before all else. I'm calling it right now, too: before this season is over, Annie will have revealed her job to her sister.
Anne Dudek is simply too strong of an actress to continually play such an unimportant role. Her character needs money, after all. Maybe she can cater for the CIA!
Overall, a terrific episode that proved how strong of a show Covert Affairs has become. It's not difficult to establish a three-dimensional, layered main character - but this USA hit now has a pair of them, as I'm ever bit as interested in Auggie as I am in Annie.
What did you think?
Matt Richenthal is the Editor in Chief of TV Fanatic. Follow him on Twitter and on Google+.