Following another strong installment of Covert Affairs, I have a couple of reactions:
As Annie, Piper Perabo is adept at switching from personality to personality (and even language to language) based on the situation she's in. It's fun to watch.
Let's hope the actual United State Senate is more difficult to infiltrate than the fictional version on "House of the Holy."
Indeed, my only real complaint about the episode was the ease with which Annie broke into the Senator's office. But viewers clearly need to suspend disbelief to a certain extent every week on this show, so I can let it slide.
The series did almost cram too many solid guest stars into one hour, too. Lauren Holly (pictured) and Anna Camp (True Blood, Mad Men) had a lot to do, but I wish we had gotten a lot more from D.W. Moffett, who has proven on Friday Night Lights that almost no actor does slimy better.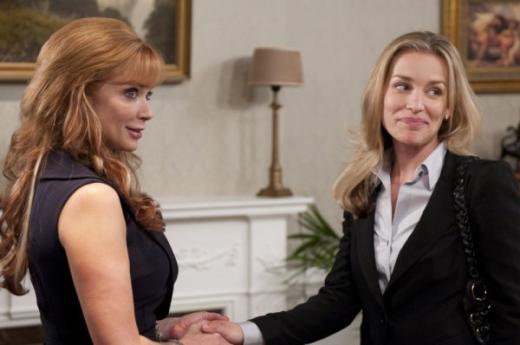 As has been the case with Covert Affairs, though, Annie and Auggie made the episode worthwhile. As mentioned above, it's a hoot just to watch Annie handle herself in scene to scene.
One second she's speaking Portuguese to get in well with a janitor; the next, she's inventing booty calls via text message and giggling like a little girl in order to bond relate to Camp's chief of staff character. The entire time, meanwhile, you can almost see Annie's brain thinking a step or two ahead, always aware of her mission. It's all very well played by Perabo.
This episode also gave us a look at Auggie's former life. It reminded viewers that he isn't blind just as an interesting gimmick for the show. There's an actual history there, one that involves Auggie's life as a solider. We were treated to the kind of bond he still has - and always will have - with his fellow Army members this week.
We also saw more of his chemistry with Annie. Does anyone out there want to see her get with Jai? That connection is being forced down our throat, while it's clear Annie and Auggie are the ones that should pursue a relationship.
On the personal front, no Ben Mercer sightings or mentions this week. But the episode did get bogged down a bit by the storyline focusing on Annie's brother-in-law. I love Anne Dudek as her sister, but unless the show can commit to making her and her husband more central every week, time spent with them feels like a waste these days.
What did everyone else think?
Matt Richenthal is the Editor in Chief of TV Fanatic. Follow him on Twitter and on Google+.