On Friday's Eureka, fans were treated to a taste of Joe Morton directing style as he took the reins on "Stoned," which brought a much more literal meaning to the word that we use too.
I was so thrilled to see Zoe back from Harvard. It is amazing that she has gone from bratty to brainy in just four short years. It seems like only yesterday Carter was locking her in a jail cell after she ran away from her mom's house.
Speaking of four years, hallelujah, Carter finally asked Allison out on a real date. That's not to say I wasn't a bit worried when Allison had not seen their dinner as a date. I thought that they were going to stall in first gear and keep the "we should just be friends" standoff going a bit longer.
Never fear, for all those that have waited the four years and multiple timeline changes, your wait was rewarded with Allison and Carter doing some much needed kissing at the end of the episode and best of all, there was no change in reality to erase it.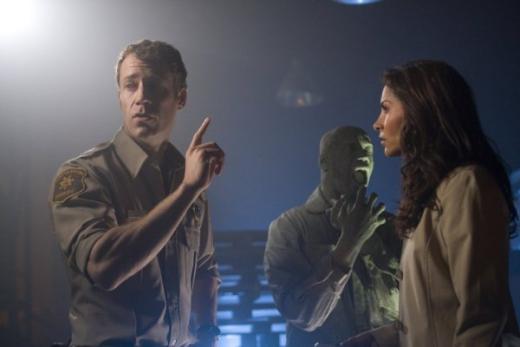 I am heartbroken for Jo, she was making such strides to bring Zane around only to find out that he and Zoe are close. Dang it Jo, you are having a really bad year. Your house was blown up, your boyfriend doesn't remember proposing, you have been a nearly mindless zombie, and now your closest friend's daughter is making time with you beau!
I have to tell you that all of this hardship has resulted in some incredible growth in you personally. While I am so very sad for all your hardship, I love the person you have become. You are no longer only obsessed with guns and breaking bones, you have a soft tender side and my heart melts when I see tears in your eyes. Hang in there Jo, things have to get better!
While it looks like I am going to lose the bet I made on Jo and Zane, Henry and Grace certainly seem to be going the other direction. Watching Henry serenade Grace with Thomas Dolby's "She Blinded Me with Science" has to be the highlight of the episode. The genuine warmth that you could see on Grace's face while they were dancing reminds me that they might yet make it back to being a real couple.
The only person I am truly worried about right now is Grant. First Beverly Barlowe is back, and she was bad news the first time around. We have not seen her since the end of Season 2 and there is no telling what type of havoc she will cause this time around. Of course, given the changes in the time line they may have decided she was actually a good guy this whole time and not the evil, psychotic, psychopath we all know.
I do have to say that I like the tie in with Grant having worked with her father Adam, given that Adam's life was significantly affected by Grant's disappearance, maybe Beverly is a different woman. I guess only time will tell (forgive the pun).
What did you think of the episode? Were you glad to see Zoe back home in Eureka? Do you think Carter and Allison will be able to make romance work? Sound off below, tell us what you think.
Some Eureka quotes from last night?
Jo: Zoe asked me advice about her new guy. Her new guy is my *old* guy?! | permalink
Carter: Some homecoming huh?
Zoe: It certainly wasn't dull. | permalink
Allison: How are we doing?
Zoe: We are not garden statuary anymore. | permalink
Henry: So what do you think I should do?
Carter: Find the person you would least likely to ask for advice and go to them.
Henry: I thought that was what I was doing. | permalink
Carter: So he rejiggered the perm! I knew someone had rejiggered something! | permalink
Carter: Why did it take me 40 years to do that? | permalink
Jim G. is a TV Fanatic Staff Writer. Follow him on Twitter.