Friday Night Lights Season Finale Review: "Thanksgiving"
Matt Richenthal at .
Like Julie when in the presence of Matt, I can't stay mad at Friday Night Lights.
The season four finale tried to cram a whole lot into just one hour, as the first half was filled with so many scenes, involving so many characters and storylines, that I had to grab my neck to keep my head from spinning. It all felt a bit jumbled, which goes along with one criticism I've had throughout this ambitious season:
Characters and developments didn't fully come together. It almost seemed out of place for all those people to even be together at Thanksgiving (though well worth it for Eric and Tami's discussion over Buddy's invitation alone), as the show had so many individuals to service this year - from new students and a new community to the tying up of long-time character arcs - that it sometimes lacked a flow.
But the superb performances and these Dillon residents I've grown to know so well made up for all shortcomings. In the end, I still found myself drying my eyes over where certain people ended up...
Matt and Landry are off to Chicago. Jesse Plemons won't be a series regular on season five, so this was his major farewell. Let's assume he does actually return to finish off senior year and this is akin to a real life recruiting trip. I can easily buy his desire to join forces with his best friend in the Windy City.
These two have enjoyed great chemistry from the outset, as I laughed out loud at Landry's quick acceptance of Matt's friendship please. Did you see my 72-year field goal? Great stuff.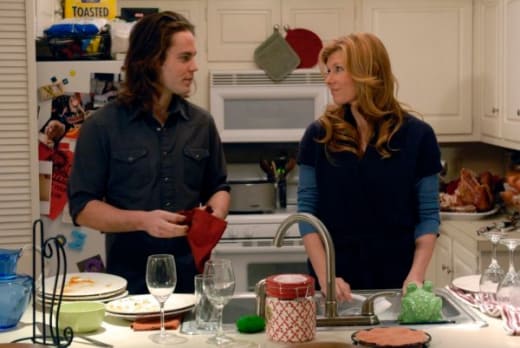 Tim is off to jail. It's hard to imagine Friday Night Lights without Taylor Kitsch, but fans will have to do so next season. He'll appear again, but it might actually be from behind prison glass. That will be a jarring scene.
For viewers that watched a self-centered Riggins bed his (paralyzed) best friend's girl early in season one, it's a satisfying arc to watch him end his regular appearances on the show with a truly selfless action. It does make me wonder if Billy and Becky will be around next year, however. These two have very loose connections with any main character aside from #33.
Tami is off to East Dillon. This also felt like a proper conclusion to a tricky storyline. Kudos to FNL for tackling the topic of abortion, the third rail of storylines for almost every other primetime series.
While those on both sides of this debate could find areas of concern in how it was addressed - were pro-lifers demonized too much? Did Becky's decision and Tami's emphasis on the welfare of her students send an implicit message on where the writers stand? - let's hope viewers are mature enough to simply appreciate the challenge FNL accepted in focusing on such an issue.
And, of course, as always, Connie Britton's work throughout it all.
These points have touched on the characters we've known for years, of course, but that's because we'll see plenty of Luke, Jess and Vince next season. The show did an incredible job of integrating these newbies into the
FNL
world.
It's clear that Vince has officially traded in any gang colors for East Dillon red. In his opening speech to the team, Eric emphasized the bonding experience that takes place when a squad comes together under pressure and that was clear in the locker room at halftime.
It was also clear before the episode started that East Dillon would win, and obvious Landry would kick the game-winning field goal as soon as Eric passed him over for that second extra point. But as predictable as this may have been, and as implausible, let's face it... it was satisfying because these characters deserve a happy ending dammit. At least on the field. At least in this case.
On that note, I just have one more thing to say before bidding this season of Friday Night Lights farewell: Eat it, JD and Joe McCoy!!! Lions pride!
Matt Richenthal is the Editor in Chief of TV Fanatic. Follow him on Twitter and on Google+.