Last night's Jersey Shore was not one of its best, although there were some fireworks throughout. Simply too much Sammi-Ronnie drama for our liking, though.
Honestly, how long is it going to be before they melt down again? Somehow, her devotion to him was proven after everything he did ... which she doesn't know.
She sort of knows, but not really. All we know is that we wish we could go through an episode without them getting back together or having lame fights. Once.
Any dude who pulls what he did and claims he doesn't remember is full of it. Any girl who puts up with it is an idiot. We suppose they're made for each other!
The fact remains that episodes based around these two are not as fun to watch. It's just the fact of the matter. And there's still the Angelina situation to deal with...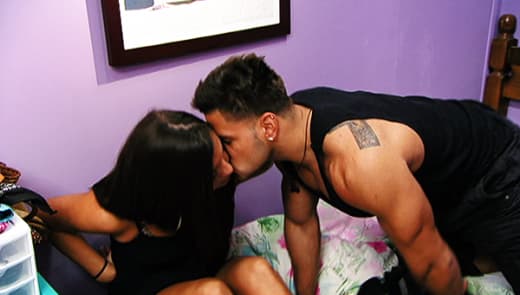 Ronnie and Sam make up for the 745th time.
After Snooki confronts Angelina about what she's said behind the girls' backs, most notably about Snooki's man, they get all up in her face. It's gonna get ugly.
JWOWW threatens to beat up Angelina if she decides to stay in Miami. She repeats this over and over again, and the guys just sit back and watch the drama.
Amazingly, Angelina manages to lose them as friends when she gets into a drunken fight with The Situation and Pauly D, having interrupting the latter's game.
The normally easy-going Pauly D cannot take it anymore after being slapped, telling Angelina she has no one know. Just like that, she's completely ostracized.
Other highlights?
Snooki buying $395 sunglasses she admits she can't see through, then wearing them inside, then dropping dinner, then basically not cleaning it up.
The owner of the gelato shop, where the gang is working this summer, telling Pauly D he's concerned about his hair falling into the ice cream.
The Situation referring to himself in the third person on the phone.
Follow the jump for the top Jersey Shore quotes from last night ...
Guy on phone: May I speak to Angelina?
Snooki: No, she died. [hangs up] | permalink
JWoww: [to Angelina] You wanna stay, you can get your ass beat. Stay, get your ass beat. Stay, get your ass beat! Stay, get your ass beat! Sleep with one f*%kin' eye open! | permalink
Pauly D: So I see Angelina up there dancing with girls, and it's not really surprising, but it's interesting. | permalink
The Situation: Can I place an order?
Delivery guy: What's the name?
The Situation: Situation.
Delivery guy: Name?
The Situation: Yeah. Situation. S-i-t-u-a-t-i-o-n.
Delivery guy: Whatever man, what's your order? | permalink
Sammi: I feel like Ron is mind gaming me a little. And it's not cool. | permalink
Pauly D: Ronnie's new nickname is IFF. The I'm F*%ked Foundation. He's a client and the president! | permalink
The Situation: The whole Sammi-Ronnie situation? Not a good situation. | permalink
Ronnie: I was doin' mad work tonight bro! Mad work! | permalink
Pauly D: Somebody just grabbed my ass ... I think it was The Situation. | permalink
Pauly D: My boss seems to think that my hair is gonna fall off and go into the ice cream. This hair ain't movin' my dude. 150 miles an hour on the highway on a street bike. Doesn't move. What makes you think it's gonna move in a gelato shop? | permalink
Angelina: [to Pauly D] I would marry you. I think about you everyday. | permalink
The Situation: We have an abundance of wife beaters ... and we wear them before we got out before it's T-shirt time. Right before we go out we take off the tank and then we put on our fresh shirt. | permalink
The Situation: JWOWW ... I've seen her working out, doing combos at the gym ... and I've gotten a little taste of a smack myself. I have an idea of what Angelina's about to go through and it's like Rocky vs. Apollo. Rocky doesn't have a chance right now. | permalink
JWoww: The sex shop is perfect. Perfect, perfect, perfect. It's my scene. And when I get into my scene I get into my clothes. | permalink
Snooki: The glasses are all bling bling ... But when you put them on you can't really see. So I don't think you can drive with them because you can't really see. | permalink
Snooki: My first thought was: I don't wanna clean this up. My second thought was: I just f*%ked up dinner. My third thought was: What the f*%k am I gonna eat?! | permalink
Steve Marsi is the Managing Editor of TV Fanatic. Follow him on Google+ or email him here.