Although it is not one of the most exciting shows on television, Mad Men never ceases to ignite conversation.
Every character.  Every plot line.  Every relationship.  They are all so layered that they inspire minds to think, review, comment, and disagree, of course.  Here's my take on the second episode of the fourth season, "Christmas Comes But Once a Year."
We are re-introduced to Glenn who strikes up quite the little relationship with Sally Draper.  After putting the moves on her at the Christmas Tree Farm, he calls her up to chat about their similar parental situations.  Towards the end of the ep, he breaks into the Draper-Francis residence with a friend and tears the place apart.  That is, except for Sally's room, which is left in pristine fashion.
This kid, played by show-runner Matthew Weiner's son Martin, is so great at being a creepy little boy.  Earlier in the series it was in having some weird fascination with Betty, and now it's in wooing Miss Sally Draper.  Is this kid supposed to be psychopathic?  Or is this just your run of the mill mischievous act by a pre-teen?
When he first started throwing eggs around the house, I thought it could be some sort of backlash at Betty for getting with a new man that wasn't himself, but after he left a gift for Sally, it seems he has definitely moved on to a new Draper.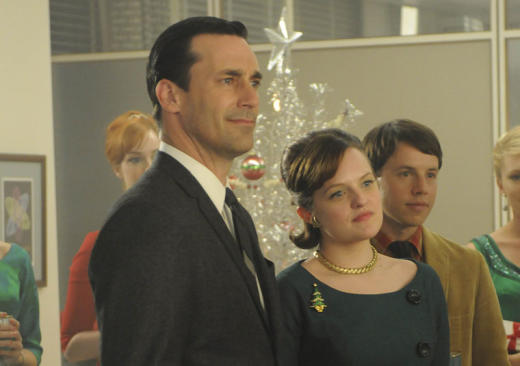 Also coming back to us this week was the very Freddy Rumsen.  Yes, the guy that drunkenly peed his pants in the office building.  He's clean and sober and he brought over a big client in Pond's Cold Cream.  The client and Freddy are in a "fraternity" together, and if like Peggy you can't put two and two together, that means AA.
What she can put together, on the other hand, is just how bad Freddy is at this job.  Maybe he's not terrible, but he certainly is "old fashioned."  Peggy can't stand working with him and his portable type writer, so she calls him out on it.  Freddy wasn't helping at all and, in my opinion, Peg had every right to upset him.
One can't help but notice she might have gotten that "old fashioned" line from Mark.  Her boyfriend said the same thing of her when he realized she once again wasn't going to give it up.  Peggy immediately shot down his notion that she was old fashioned and came at Freddy with the same claim the next day.  There's one thing Peggy doesn't want to be - and that is old fashioned.  And that is why by the end of the ep Peggy decides to sleep with Mark after all.
The agency Christmas party was supposed to be small in order to cut back on costs, but that all had to change when Lee Garner Jr. of Lucky Strike invited himself to the shindig.  These are the sacrifices you have to make when a client is 69% of your business (if Pond's Gold Cream works out).
The biggest sacrifice, though?  Roger giving in on putting on the Santa suit and handing out all the presents. 
We all know this is not a Roger type activity, and if you didn't, you could tell by how many times he turned down the idea initially.  When Lucky Strike basically controls your future, I guess you'll do anything. And that includes letting Harry Crane sit on your lap.
Lane put it so nicely.  After Roger handed Lee his Christmas gift, Mr. Garner proclaimed "you didn't have to."  Lane then replied, "Yes, we did."  And they certainly did.  This whole charade showed once again how Sterling Cooper Draper Pryce really is scraping by.
And we finally get to Don Draper, who was having a very difficult time dealing with this holiday season.  He now has no wife, no mistresses, and can't spend time with his kids.  When Sally wrote in her letter to Santa/Don, "Most of all I'd like you to be here on Christmas morning to give it to me, but I know you can't be," we all saw him hurting.
He was drinking even more than usual during this episode and also tried to drown his sorrows in women.  Don first attempted to drunkenly woo his neighbor Phoebe.  She resisted the move, but I can see something happening between them down the road.  His second drunken wooing came towards his secretary.  This time he caught something, which made for an awkward encounter the next morning at work.
There was a lot that happened tonight, but what will it bring in the future?  Will Don's work be affected by his recent behavior?  Was that a resignation letter she was typing? Will Sterling Cooper Draper Pryce rise up again to the top of the business?  There definitely are a lot of questions and answers still to come from Madison Avenue.
** Remember to check out the latest Mad Men quotes from it now!
Dan Forcella is a TV Fanatic Staff Writer. Follow him on Twitter.