As long as Modern Family makes us laugh, we're happy.
But some fans of the ABC sitcom have been displeased with the lack of PDA between gay couple Cam and Mitchell, as a Facebook campaign pushing a kiss between the pair got underway a few months ago.
Producer Steve Levitan says this isn't necessary, though. He always planned an episode that would feature this pair swapping spit.
"We've had an episode planned for a long time that dealt with that subject of [Cameron and Mitchell's PDA]," Levitan told E! News earlier in the week. "So it almost bothers us that there was a little bit of controversy about it. Because we don't want to appear that we're answering that criticism. But sure enough, we're dealing with public displays of affection, and the power of a kiss. Seems simple, but intriguing - I hope."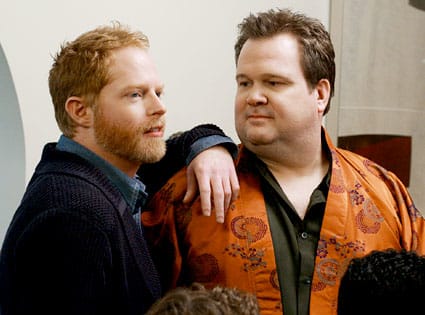 Chimed in Eric Stonestreet, who plays Cam and makes a good point:
"I think it's great that people care so much. I always am confused why they don't worry about shows that don't have any gay characters on them. They should put some focus on them as well, but we'll give the audience exactly what they need."
Modern Family premieres its second season on September 22. Browse through its funniest quotes from last year right here and now!
Matt Richenthal is the Editor in Chief of TV Fanatic. Follow him on Twitter and on Google+.