Bones Season Premiere Review: Getting the Band Back Together
Steve Marsi at .
After four months of Bones spoilers and rampant speculation over Booth and his new girlfriend, we were expecting major fireworks last night on the show's sixth season premiere.
Instead, we got a typically solid episode that basically served to put things back to normal with some new twists. "The Mastodon in the Room" was in fact present, but only literally.
The clips of Booth on location in Afghanistan and Brennan busting some heads in Indonesia (she wields a mean shovel) were great, but the inevitable return to D.C. soon followed.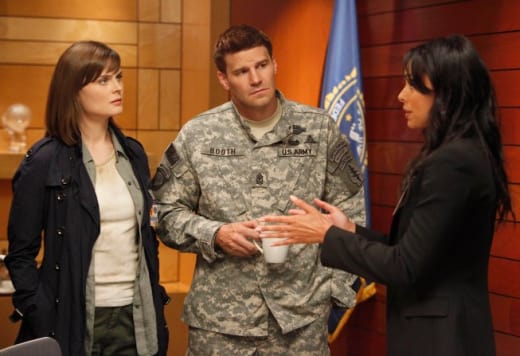 Cam's failure to ID a little boy's remains brought the team home.
The much-anticipated Booth-Brennan reunion actually took place very early in the episode, and relatively little was made of his new love interest, at least compared to our expectations.
There was this classic exchange, chock full of subtlety ... Brennan: "Is it serious?" Booth: "Serious as a heart attack." Brennan: "Heart attacks are very serious." Booth: "Yes. They are."
For the most part, though, the season premiere reassembled the gang and set the stage for future story lines. Thursday night's case(s) were not among the show's most compelling.
Cam was under the gun because she couldn't solve the case of a missing child amid a media frenzy. But it was her research into PSTD in veterans that put underlying pressure on her.
The government didn't want that information public, thus searching for cause to sack Cam. You wonder how often things like this really go on. Probably more than we'd like to admit.
Cue the emotional reunion of the team. This was one big Bones love-fest, which is forgivable after five seasons and more than half a year away in these lovable oddballs' universe.
Brennan, Hodgins and Angela figured out the remains were not the missing child almost immediately, which was appropriate, given that their expertise is what brought them back.
Still, for a high profile case, this one seemed really easy to crack. They not only ID'd and solved the case of the remains, but recovered the missing boy whose remains they weren't!
Two-for-one! Way to go, guys! It was a bit thrown together, but given everything else jam packed into one hour (seven months had passed, after all), we'll give 'em a pass this time.
It's good to be back.
While the case unraveled, we learned a bit about each character, where they've been and where they're going. For Booth, it's where he's not going. Being with Parker opened his eyes.
Returning to Afghanistan doesn't seem as appealing now. Nor does returning to France for Angela and Hodgins, but for different reasons. He missed the states and hunting bad guys.
She missed ... her period. Awkward pregnancy segue alert!
Watching Hodgins gush about being a dad was sappy and cute, and it should be fun to watch the anti-Booth and Brennan settle into thee wild new roles of expectant parents this year.
Meanwhile, Sweets and Daisy ... where to even begin. She still had the ring. He'd moved on, with facial hair. He can play the piano. They fought. They made out in public. Stay tuned!
It wasn't the best episode of Bones ever, but it served its main purpose. It was entertaining and set the stage for many personal and professional developments to come later this fall.
The closing scene, in which Angela, Brennan, Booth, Daisy, Sweets, Wendell, Caroline and Hodgins all filed in, showed how excited they are to be back, and to see what comes next.
What did you think of the Bones premiere? Comment away!
Steve Marsi is the Managing Editor of TV Fanatic. Follow him on Google+ or email him here.