The fifth season premiere of Brothers & Sisters was supposed to reinvent the series via the much-touted flash forward. Instead, we often longed for flashbacks to earlier seasons. 
Picking up one year after the accident, "The Homecoming" depicts the impossible: A shattered, despondent and wholly distant Walker family. Which was, of course, the point.
Where it failed was the execution. Some story lines seemed so sloppily thrown together, the time jump just felt unnecessary. Things changed either too drastically or not at all.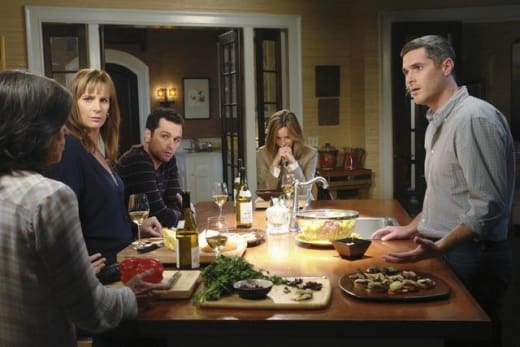 Justin is the voice of reason now. Seriously.
In fairness to a show we've enjoyed for years, it was a good opener ... or at least it could be. The jury's still out, pending future events. But we were not big fans of this episode.
The Walkers not communicating with each other felt out of place for a family who always does, which, again, was the idea. It just wasn't done in believable enough fashion at all.
On Grey's Anatomy, we felt the fallout from a similarly bloody, tragic finale so palpably. Tears, spontaneity, breakdowns, and a general confusion over how to react. Here, though?
It often made little sense and our favorite characters too out of character.
For example, Nora hasn't said anything to Kitty about keeping Robert on life support for
an entire year?
She didn't tell Justin
his wife moved out?
She works
at a flower shop?
Without the absurdity of the time jump, we could see these things developing over the course of a few weeks, even months. But no way would Nora be acting this way now. None.
Then we have Holly, whose memory constantly rewinds to the day of the accident. This is almost comically bad. Again, one week later, okay, flashbacks and visions. Not a year.
Also, no one has eaten at Scotty and Saul's restaurant? Come on, they would at least rally for that. No one questioned Sarah's desire to sell Narrow Lake and bail? She has kids!
Robert's farewell was probably the most troubling part of the premiere, though. After the fresh, reinvented landscape the show promised, we assumed that Kitty would be dating.
No, she's still mourning, and Robert was still on life support. Now it seems like her jumping back in the dating game is too soon. Why not have Robert heroically buried long ago?
If we're forced to find a positive, it's that Dave Annable was terrific as Justin. His character was the only one who made any sense to us (again, the point) and to the rest of them.
We understand the point. The family is broken. They must rally to pick up their respective pieces. But this time-jump gimmick was either unnecessary or underused. Take your pick.
Hopefully, with a lackluster premiere out of the way, things can return to normal next week with the brilliant acting and character interplay we're used to on full display. Hopefully.
What did you think of the episode? Were you as thrown off by some of the developments (or non-developments) as we were? What did you like about it? Comment below!
Steve Marsi is the Managing Editor of TV Fanatic. Follow him on Google+ or email him here.