Covert Affairs delivered an intriguing revelation to viewers this week, but it took a sloppy, clumsy episode to get us there.
Am I intrigued by the fact that Jai seems to have played some role in Ben's disappearance and was even present in Sri Lanka years ago? Absolutely. But I wish "Fool in the Rain" had led us there in a less haphazard manner. It was probably my least favorite episode of what's been a great first season.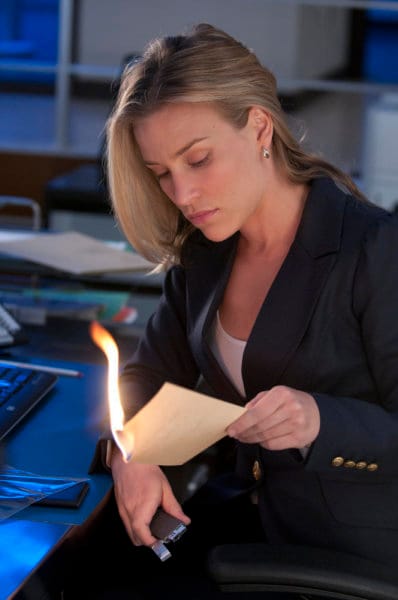 First, how stupid are they making Annie's sister out to be?!? It's frustrating enough to watch a great actress such as Anne Dudek wasted in such a thankless, pointless role. But couldn't the show at least make her the tiniest bit suspicious of Annie?
It takes very little for Danielle to buy her sibling's story about the Iranian and his supposed connection to the museum. I'm hoping someone realizes the asset this series has with Dudek and she gets clued in to Annie's occupation at some point. Let's see the two of them work together on a few cases, with Annie perhaps having to lie to the CIA about Danielle's occasional involvement.
My other episode complaint is based around the key flashback we saw of Annie with Ben in Sri Lanka.
We've been led to believe until now that his note/disappearance was an utter shock and mystery to Annie - but now we learn she actually witnessed him talking to some shady guy on the beach... in the pouring rain? And she never asked him about it, or wondered about this person's identity until now?
Again, I'm interested to see where this Jai-related development goes, but the way it was fleshed out this week seemed almost random, as if the show inserted this game-changer at the last second.
I have nothing but positive things to say about Auggie and his no-longer-rogue-operation with Liza, however. But I do have a question: her response that Auggie's information led to a dead end is meant to reveal that one of those 17 people Arthur mentioned is the leak, right?
Covert Affairs wraps up this season with a two-hour finale next week. Complaints here aside, I can't wait. How about you?
Matt Richenthal is the Editor in Chief of TV Fanatic. Follow him on Twitter and on Google+.