As previously reported, Julie Benz will appear on the fifth season premiere of Dexter, despite her character's bloody demise to conclude season four.
How is this possible? In what context will we see Rita again? Having viewed the September 26 episode, we can answer those questions and also relay the following spoilers from the installment:
Viewers will watch a couple flashbacks to Dexter and Rita's first date. It didn't go very well, and Dexter's preoccupation with his Dark Passenger was the reason why.
Dexter will kill a man, but not in his typical manner.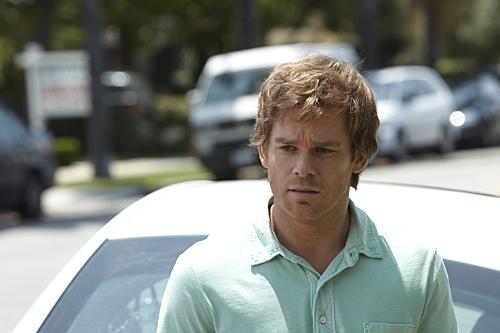 Harry will appear.
Deb and Quinn will get a lot closer.
Return to TV Fanatic for an in-depth review of the premiere right after it airs. For now, enjoy the following pair of clips from the episode:
[video url="http://www.tvfanatic.com/videos/season-five-premiere-scene/" title="Season Five Premiere Scene"] [/video]
[video url="http://www.tvfanatic.com/videos/funeral-arrangements/" title="Funeral Arrangements"] [/video]
Matt Richenthal is the Editor in Chief of TV Fanatic. Follow him on Twitter and on Google+.