Hawaii Five-O Series Premiere Review: A Successful Reboot
Jim Garner at .
As one of the most anticipated shows this season, Hawaii Five-O had a lot of pressure on it... and if the series premiere was any indication, the light-hearted drama won't have a problem living up to this hype.
I really enjoyed the new version of this classic program. It appears that CBS kept all the parts of the original show that worked and updated the parts needed to be modernized. Take the theme song, for example, an iconic tune with just a few new tinges of awesomeness.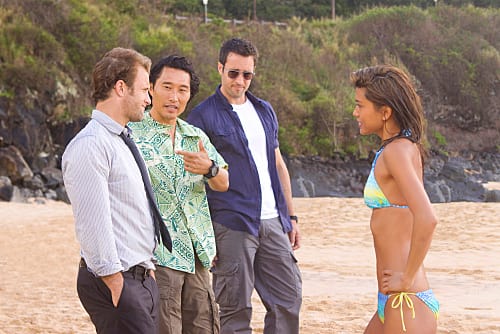 Alex O'Loughlin comes in as Commander Steve McGarrett of the U.S. Navy. He is recruited by the Governor of Hawaii to lead a special team to help rid the state of the worst of the worst criminals. I love O'Loughlin. I am so very glad that he got a better show than last year's failed Three Rivers, as Hawaii 5-O takes full advantage of all of his skills.
Scott Caan is recruited as a New Jersey detective, Danny Williams, transplanted to Hawaii to be close to his daughter. I was wondering how they were going to work this character as a Hawaii resident. My fears were put to rest instantly when you realize that he's a loving dad willing to deal with Hawaii just to be closer to his daughter. Some great comedic touches to this included the ringtone for his ex-wife being the score from
Psycho
.
Daniel Day Kim is Chin Ho Kelly, who was kicked off the force but comes back when recruited by Steve. Of our starting characters, Chin is the only one who has grown up and resided on the island. He is also connected to the last member of the team, Kona Kalakaua.
The always wonderful Grace Park plays Kalakaua, recruited to the unit just before she graduates from the police academy.
Given how much the world has changed since the original series ran from 1968 to 1980, I was happy with the overall structure of the show. McGarrett is now an ex-special forces Commander who is action-oriented and the cases they will be dealing with are going to be a bit larger than your typical cop show. If the writers keep the stories centered on threats to Hawaii and sometimes the United States, I think that it can succeed.
Normally in a pilot, you will see some clunky interactions with the cast as they get familiar with each other and the characters. But O'Loughlin and Caan must have gone away to summer camp together before they started shooting. Their banter, fights, and discussion were nicely done. Moreover, Caan possesses such great satirical humor, you can't help but laugh when he asks a handcuff suspect, laying face down who is  struggling, "where are you trying to go?"
There were two things in the pilot that I am concerned about and will be watching for in future episodes:
Overuse of fire fights. In one hour alone, they had three major fire fight scenes. While this does make for an incredibly action-filled pilot, it also means you have to rush all your character introductions to fit them in. I am hopeful this was just the writer's way of opening the show with a bang and it will level off in upcoming episodes.
Underuse of guest stars. James Marsters was cast as Victor Hesse, who McGarrett has been chasing around the globe for five years. Marsters might have gotten three minutes of total screen time. William Sadler was cast as John McGarrett, Steve's father and got less than two minutes of screen time. It seemed a waste to cast such great names for roles that we didn't see much of. 
Still, it was a solid start. Browse through a few Hawaii Five-O quotes from the episode and chime in with your take on it.
Jim G. is a TV Fanatic Staff Writer. Follow him on Twitter.