It looks like the CW has another hit on its hands. The much-anticipated series Hellcats premiered this week, showcasing bubbly personalities, interesting friendships, and sheer talent.
On the pilot episode, we met Marti, a pre-law student at Lancer University, which she attends on financial aid. She hangs with her townie friend Dan, who works down at the docks. Sitting in the courtyard, the two of them watch the Hellcats practice. Marti and Dan make fun of the squad when one of the flyers gets hurt.
Marti lives off campus with her mom, who works in the college pub. Sorting through the mail, Marti finds her scholarship papers explaining that it was canceled last semester causing tuition to be past due and must be paid in a week or she will be cut from classes. Marti's mom explains that the university cut employee fringe, but they will figure it out.
We then go to Hellcats practice and get a closer look at the hard work the cheerleaders put in. Here we get to meet some of the Hellcats, including Savannah (the captain), Alice (the injured flyer), and Louis, one of the male cheerleaders.  Alice and Louis are arguing about whose fault her injury is, as we also find out that they used to date.
Marti meets with the Bursar's office to find how to keep her scholarship. The recommendation is for her to look for alternative scholarships. Savannah comes into the office to drop off her cheerleading scholarship papers, as well as put up tryout posters to replace Alice. The girls get into an embarrassing argument after Marti insults cheerleading.
Tryouts bring out all types of girls, including Marti. How convenient is it that Marti just happens to have had training in gymnastics for years making her a great tumbler?
She has a hard time picking up the moves until she starts to make it her own with wild dancing she picked up in townie bars. Savannah, Alice, and the coach vote on new additions, where Savannah makes the decision to vote for Marti.
The cheerleading coach (Vanessa) meets with the Athletic Director about Lancer hiring a new football coach, Red Raymond. Because of Red's expenses, the cheerleading budget will have to be cut, eliminating the competition portion for the Hellcats unless they make it to Nationals. Turns out Red Raymond and our cheerleading coach used to date when they attended Lancer, making for an awkward love triangle, considering she dates the team doctor.
Marti has to move into the cheerleading dorms, cleverly called Cheertown, where she is roomed with Savannah. Savannah has already put the argument behind her and has chosen to be friends with Marti.
At the showers, Marti has a run in with Alice. Alice gives her a hard time, telling her that she won't be around too long. Alice takes Marti's robe and towel while she's in the shower, causing Marti to run into the boys' locker room and hide in a stall. Louis comes to her rescue, giving her his towel so she can get out of there.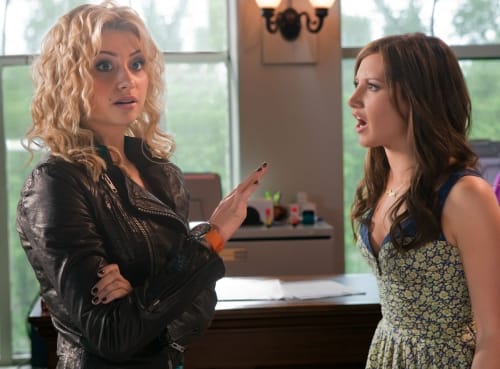 The team heads to practice for qualifiers. Marti and the squad change up the routine and have some fun, pissing off Alice. After practice, Savannah talks with Marti about why she quit gymnastics. She explains that her mother was the problem, showing up drunk and causing Marti to mess up. Alice overhears and quickly goes to Marti's mom to invite her to qualifiers. At this point, Alice has quickly become my least favorite character.
The episode finishes off with the Hellcats heading out to the floor and Marti enjoying her new view.
All in all, the Hellcats premiere shows some promise. It is pleasantly surprising to see the two main girls getting along, rather than start a rivalry from day one. Savannah looks like she is going to provide us with some laughs – Ashley Tisdale really fits this role well. The hour also showcased some extreme talent on the part of the cheerleaders. Having been a cheerleader, I can tell you, what that Hellcats are doing: definitely not easy. Hellcats is a typical CW show with the drama that you have grown to expect and enjoy, no matter how ridiculously unrealistic it is.
Check out our favorite Hellcats quotes from the episode now and sound off: what did you think of it?