Poor Vinny. The guy can't get a break, or story line that doesn't involve pink eye.
Yes, on Thursday night's Jersey Shore, the show's only 100 percent Italian Stallion contracted the ailment that plagued him last season. When you're DTS, these things can happen.
When he wasn't snuggling (or smushing) Snooki, Vinny was getting pretty irate at Angelina (who isn't) for always stirring the pot with the whole Sammi and Ronnie situation.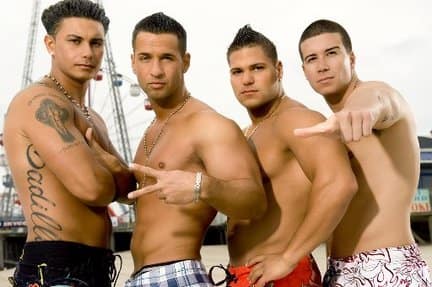 FEARSOME FOURSOME: No shirts. One case of pink eye.
As The Situation told us a few weeks ago ... that's not a good situation. But for whatever reason, Sammi appears to be pissed at everyone but Ron. What is wrong with her?!
There's cursing and yelling. JWoww gets in Sammi's face. Sammi gets in JWoww's face. JWoww clamps her hands over Sammi's ears and pushes her head away. Sammi smacks JWoww in the face. JWoww grabs her hair like an old pro and takes her ass down.
That was the highlight of the night, one we cannot really do justice to here. Continue our review (and browse some of last night's Jersey Shore quotes) after the jump ...
Meanwhile, the Situation brought home a girl, put her into the smush room and made some food first ... then called her a cab afterward. Really classy, these people.
Later, Sitch possibly hooks up with a man at the club. Karma's a bitch.
Pauly D becomes so drunk he requires the assistance of his housemates. It's all-out bedlam at the shore this week, and we have to say, it's still entertaining as hell.
Some top Jersey Shore quotes from Thursday ...
Sammi: Who gives a f*%k?
JWoww: What, did you grow some balls all of a sudden? | permalink
Vinny: [to JWoww, on his bling] It's like your t!ts. Looks sick, but it's fake. | permalink
Vinny: With this spray-tan, this chain, and this fitted, how could she not love me? | permalink
Vinny: If she wants to come into my bed and throw it at me, I'm gonna take it. | permalink
Sammi: Was she talking $h!t?
Angelina: Yeah. | permalink
Sammi: I'm done with it. Done. | permalink
Angelina: Nothing happened. She's still with the f*%king kid! What else are you guys gonna do? What else do you want me to do? | permalink
Angelina: She's lucky I don't go in there and backhand her. | permalink
Ronnie: You want your space, I'll leave you alone. | permalink
The Situation: I'll be flipping pancakes while people are punching each other in the face. | permalink
The Situation: So, um, I, um, got a taxi for you, baby ... I set up everything for you. Are you good? | permalink
The Situation: I don't even know. Who knows, dog. That's the first time. The first time that has happened. But I'm a trooper! I'm The Situation, man! | permalink
The Situation: I'm not ready to perform right now. I'm like a Ferrari. I'm high maintenance. | permalink
JWoww: Why am I doing this by myself, in anger? | permalink
Pauly D: [to Vinny] Your eyebrows are so bushy that they collect so much more bacteria than normal eyes would. | permalink
Sammi: Whoever wrote me the note, thank you, I appreciate it because I look like a f*%king idiot. | permalink
Vinny: Right now, Pauly would hook up with me, he's so drunk. | permalink
Steve Marsi is the Managing Editor of TV Fanatic. Follow him on Google+ or email him here.