Life Unexpected Review: "Parents Unemployed"
at .
Last night's episode of Life Unexpected seemed more like a filler than a substance-filled installment, but that's okay. There were still plenty of scenes that held me captivated and left me wanting more.
As you might expect, the title ("Parents Unemployed") prefaced a couple major developments from the hour: With Cate fired and Baze's bar left in ashes, both of Lux's parents were in search of new jobs this week.
Ironically, Lux's principal wanted them to speak on career day. Of course, they couldn't pass it up because it almost seemed like Lux's education was on the line. I wondered how Cate and Baze would have made it through this presentation, but lucky for them Ryan showed up and everything was as smooth as silk.
I found it very touching that Ryan wants to really be seen as a father figure for Lux. Most guys his age would be happy to not have the responsibility of raising a teenage girl that's not even biologically theirs. Is everything about Ryan too good to be true, though? We still don't know: Who the heck is Julia???
I would have never pegged Baze to be a suit and tie, nine to five type of guy, but by the end of the episode I was rooting for him to get that job! All his life choices started making sense when he told Emma that he felt he could never be that great of a man that his dad is. I see big things changing for Baze in the future, and who knows, there could even a bit of office romance.
Cate may not have gotten her old job back, but it looks like things are also on the upswing for her. She is usually the one character I feel always gets the brunt end of the stick. Hopefully, things will continue to work out, but something tells me it won't be smooth sailing for our gal.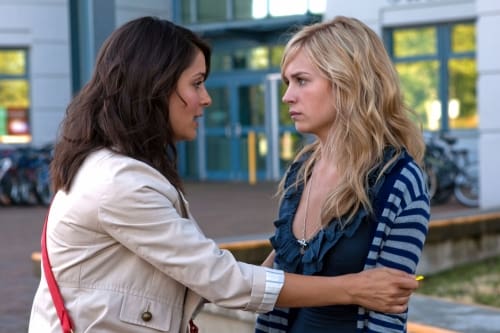 Okay, so you know how that old saying goes, "where there's smoke..." - I feel like it couldn't relate any better to the tension that I felt between Eric and Lux!
Not to say that I am one to condone student/teacher relationships, but there's something so charming and cute about Eric. Gosh, it's like the writers stole a page from Pretty Little Liars! Do you think that this will be the end of their brief affair - or will the young man throw caution (and his job/prison-free life) to the wind and go for it with Lux? My best guess would have to be the latter.
I was kind of disappointed in Lux for stealing the answers to her midterm, but in her bind, what kid wouldn't do that if it were as easy as taking a couple pictures of the answer sheets? I just hope that this doesn't come back to bite her in the arse.
Overall, this week's episode kept me entertained. I can't wait to see what transpires when Ryan finds out Baze slept with his sister!!!
Until next week, below are a few Life Unexpected quotes:
Baze: Oh my God! Fire girl! | permalink
Lux: Do you know what I keep thinking about? That night. You can say what you want, but to me, it was real.
Eric: Lux, it was real. | permalink
Baze: Alright kiddo, whoever you're looking pretty for is one lucky kid. | permalink
Lux: Thanks Aunt Paige - what? She asked me to call her that. | permalink
Cate: I bet you that there's something better right around the corner for both of us. | permalink