Rookie Blue concluded its first season last night with a pair of contrasting episodes.
The first offered no action, just a look at the emotional toll the life of a cop can take. The second, conversely, focused on a drug sting, a wounded officer and a day in the busy, complicated lives of these same cops.
In this overall series review, we take our cue from one aspect of the two-part finale and evaluate what worked and didn't work on Rookie Blue over the course of its first season..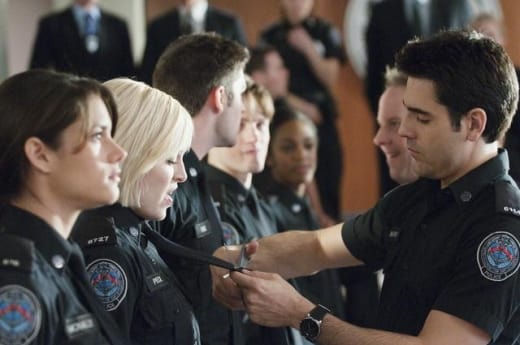 PASS: Missy Peregrym and Ben Bass. Solid actors with great chemistry together who could go from dramatic to light-hearted in the course of one conversation. Helps that they are both easy on the eyes, as well.
FAIL: Andy and Luke. I've written about this before, but we know absolutely nothing about the latter and this relationship just feels like a forced way to keep Andy and Sam apart. Based on what we know of the couple, seems impossible to believe they'd move in together.
FAIL: Too many relationships. The show doesn't seem to know what to do with any character except toss him/her into a relationship. But these feel underdeveloped and random. Dov meets a girl at the hospital one week, she's announced as his girlfriend the next week and then they break up? Traci is dating Jerry, but we scarcely see them together and then she goes back to her ex? There's no attempt to make us care about of these couples. It would be nice if Rookie Blue could think of other ways to get side characters involved.
PASS
: The action. There's always an exciting chase or shoot-out or climax to an episode.
FAIL: The lack of drama. This is my main issues with the series: it remains too shallow and fluffy. Think about it - did anyone think that lady would commit suicide last night? Or Diaz would die? Or Andy would resign? This just isn't the type of show to take any of those bold steps, which would be fine... if it didn't tease them on a weekly basis.
There's not much dramatic tension at this point because viewers know nothing terribly tragic or surprising is gonna happen. If it's not willing to kill off a character, or create a long, in-depth arc, I'd rather see the series focus more on comedic elements and stop pretending as if there's really a lot at stake each day.
PASS: Andy to that man with a gun: This is NOT my first day. Nice way of bringing the opening season full circle, as we all remember the famous scene in the pilot where Andy pleaded with a crimlnal to give her a break... because it was her first day.
Overall, Rookie Blue served its purpose as an easily watchable summer program. It returns in 2011 and I'll watch. Will you?
Matt Richenthal is the Editor in Chief of TV Fanatic. Follow him on Twitter and on Google+.