Terriers is a show that relies on the chemistry of its two leads.
Fortunately, FX has cast real-life friends Donal Logue and Michael Raymond-James (as Hank Dolworth and Britt Pollack, respectively) as a pair of unlicensed private investigators who play off each other perfectly. The pilot episode begins and ends with a simple conversation between the two, which is a solid summation of a great series premiere:
It doesn't try too hard. Terriers succeeds due to quick-witted dialogue and a basic premise. It doesn't rely on special effects or complicated storytelling, just quality writing and characters I feel like I know well after just one hour of watching them work.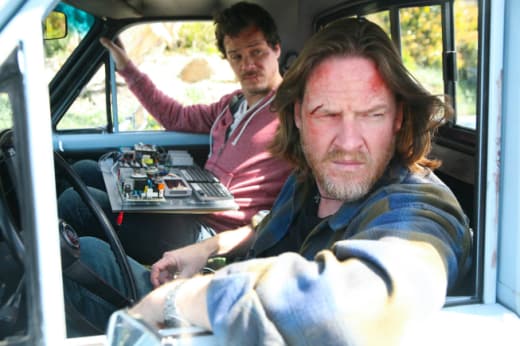 The show is produced by Ted Griffin (Ocean's 11) and Shawn Ryan (The Shield), and each man leaves the mark of the movie/show for which he's best known.
Hank and Britt operate a lot like George Clooney and Brad Pitt's characters from that film franchise. They're clearly tight, jokingly argue about mundane topics, but get down to business when it's time to break into a property or investigate a scene.
Hank mirrors Danny Ocean not only as the leader of the duo, but with the ex-wife he wants to win back. When it comes to Britt's love life, the show steers away from convention by giving him a serious girlfriend who doesn't encourage her man to find a more lucrative, legal career.
We don't get a lot about Katie and Britt's relationship - aside from the cliche that she wants a baby and he isn't ready yet - on this episode, but she seems turned on by the unusual life Britt leads. You also gotta love a guy who turns the favor a dry cleaning store owes him into a free meal at a nice restaurant.
As for Ryan's influence, one of the key components of The Shield was Vic Mackey's ability to weasel out of dangerous situations by thinking six steps ahead and playing various individuals or groups against each other. Hank seems to have this potential.
The premiere didn't suffer from the clunky dialogue that plagues so many other pilots, as many shows awkwardly throw a lot of information at viewers in order to educate them about their characters. Instead, Terriers just lets us see a a day in the life of these men, specifically Hank, and I turned off the TV confident that I knew the former detective pretty well.
He's a recovering alcoholic and he's been content solving petty crimes outside the force... until events from this episode light Hank's crime-fighting fire once again. He and Britt may spend most of the hour trading sarcastic barbs, but in his speech to Robert Lindus, it's clear Hank has it in him to be a serious, vengeful fellow.
I've also been a fan of Rockmond Dunbar since his role on Prison Break. Nice to see him on the opposite side of the law here.
Overall, a well-written, sharp pilot that has me excited for the rest of the season. What did you think of this introduction to Terriers?
Matt Richenthal is the Editor in Chief of TV Fanatic. Follow him on Twitter and on Google+.