The Gates Season Finale Review: "Moving Day"
at .
Last night's jam-packed two-hour long summer season finale of The Gates was anything but boring.
In fact, it was kind of like too much of a good thing. When some episodes of The Gates tended to drag a bit, it almost felt like the writers wanted to be sure to tie up any loose ends before the season was over.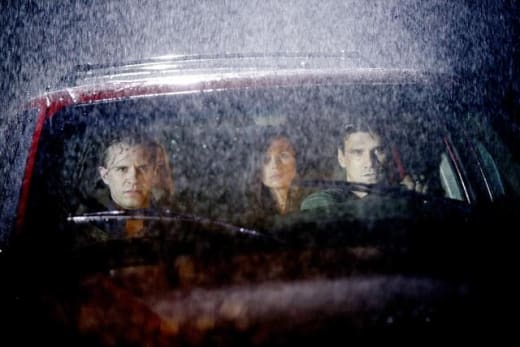 [Photo: ABC]
Both "Bad Moon Rising" and "Moving Day" were really fun episodes. I had no idea what would happen next. This is a great element to a season finale, but because it was one crazy scene after the next, it practically left me in a daze.
WARNING! Spoilers ahead!!!
In the first hour of The Gates, Frank's wife was about to turn him into a vampire, but somehow someone mysteriously poisoned his blood. This made Frank pretty much toxic to any vampire who drank from him. (How creepy and yet fascinating was it watching my favorite White Collar bad girl deteriorate right in front of our eyes?! Bravo to the special effects crew!)
As we found out, Sarah was the one who poisoned Frank because Devon was mind controlling her with the tea. It was rather predictable that the best known villain was behind it all. My question to ya'll is - how do you think Devon knew it was time to escape? Somehow, she must have realized that her hypnotic powers wouldn't last.
As sad as it was to see the demise of Frank's beloved, it was rather shocking to see Frank blow his brains out! I really wasn't expecting that and as disturbing as this might sound, I found Sarah's reaction rather humorous.
Okay hear me out, this poor lady just found out her neighbors are all fictional characters from childhood ghost stories and first finds out it was her fault that one of them died, only minutes before the town's mayor of sorts commits suicide so the werewolves won't find, attack, and kill him.
I wasn't sure exactly how Devon would be able to get out of this pickle. A part of me always wants to root for the under dog and when it looked like Devon was about to be apart of the all you can eat vampire buffet, I honestly was rooting that she'd make it out alive!
Side note, that vampire fight was outstanding! Granted, most was left to our imagination, but I really felt like I was in the thick of it...not to forget how awesome Claire looked as a crazy kick a$$ vampire.
The second hour of The Gates had our favorite human family packing and ready to leave town. Good job Nick. Finally, he put his family first (insert sarcastic snicker). Unfortunately for him, Charlie decided to skip out of town with his soul eating girlfriend.
Although, it looked like Charlie got some sort of happy ending...(get it, because he died?) at least he was with the love of his life. Awe. It was super sweet dialect between these two and Andie did make a good point. She can never really be with him as long as she is what she is and he is what he is - just mortal.
And as fate would have it, Charlie aint just a mortal anymore! I wasn't too surprised that our notorious bad girl had something up her sleeve when she helped save Charlie's life. But what in the world is Charlie now?
We finally learn that Leigh really does have her heart in that jewelery box - and her ex did rip her heart out. Super gross. But, what does this mean? Can she never die? All I know is if that was my heart, I would keep it in a secret safe where no one could find it - not in a cabinet in plain sight.
All in all, The Gates was able to wrap up a good first season and definitely left me wanting more! Hopefully, ABC will realize that they have a great show that brings the spooks and fun for hot summer nights.
What did you think of the season finale? Leave your thoughts and opinions below!
Until next season, here are a few of my favorite The Gates quotes from last night:
Sarah: What did you do to my son?
Devon: I told you I could bring him back, I never said he would be the same. | permalink
Devon: You have nothing to worry about, I taught Mia exactly as you taught me. | permalink
Sarah: Please, can you help my son.
Devon: I'll do whatever I can. | permalink
Peg: There is another way. Devon can help him, but it would be through the dark arts and with dark magic there's always a price.
Sarah: I don't care. | permalink
Claire: My blood helped create the very poison that can distroy us all. | permalink
Andie: Charlie, you look scared.
Charlie: I am scared. No its not that. I'm scared because I've never felt this way before and I'm scared of losing you. Andie, I love you.
Andie: I love you too. | permalink
Frank: I've always known that I wanted us to be together forever. | permalink