The latest installment of Castle gave us a view into the world of private steam punk societies, as well as the vivid imaginations of the show's writers.
On "Punked," Castle and Beckett learned all about the concept of exclusive parties themed in prior generations, while Castle was given the chance to toss out a handful of hysterical one-liners.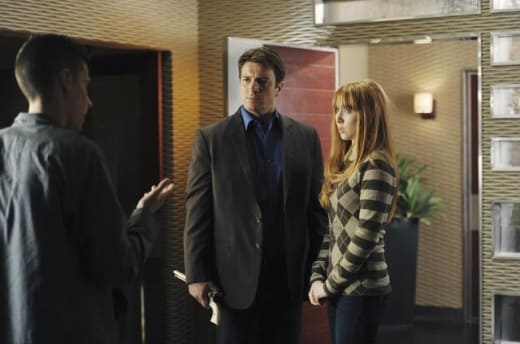 [Photo: ABC]
Although the murder mystery was not my favorite, the costumes used were amazing. I appreciated the attention to detail, which made up for a far-fetched storyline that jumped around to much. Not the best episode I have seen from this series, but still entertaining.
This episode largely focused on the Castle/Alexis relationship. Through this pairing, we got to see a different side of the author that isn't always sarcastic and joking. It was sweet to see him care about the repercussions of his relationship with his daughter now that she has a boyfriend of her own.
The end of the hour not only blindsided both Castle and this critic: Who is this mystery guy picking up our beloved Kate? Although spoilers have led us to know we will be meeting a love interest for Beckett, I did not expect it happen tonight.
My heart dropped watching Castle's reaction to Kate's new beau. Why has she been hiding him? (Side note: Once again, no mention of Castle's ex/current girlfriend. Weird)
What did you think of the installment?