Simply put, the George Takei voiceover to open and close "Epidemiology" was one of the funniest gags Community has ever done.
While those named Kevin may have appreciated the concluding message more, I missed the show's opening lines laughing so hard at the concept of Takei narrating the episode to begin with, essentially telling viewer: just watch.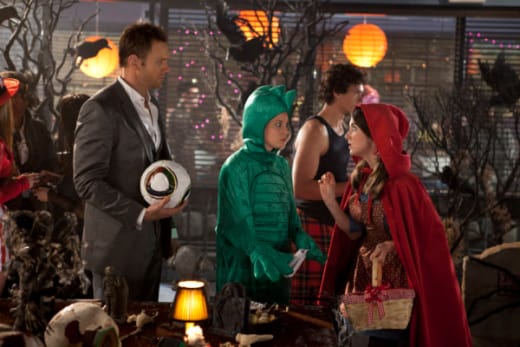 Don't worry, George, I most definitely did just that, appreciating the sitcom's return to absurdity grounded in reality this week. Yes, for Community, a costume party where everyone gets infected by a zombie-like bug constitutes a somewhat realistic scenario.
Unlike the past two episodes, which featured broad concepts more than specific jokes, I loved everything about this installment. I've listed some of the best quotes from it below, but to rehash a few gut-busting scenes:
Of course Jeff would act like a cool zombie. MWAH!
Chang as Peggy Flemming, getting offended by the notion that he'd be Kristi Yamaguchi? Hilarious.
What was up with that cat? Was someone throwing it?!?
Jeff hates Rich more as a zombie. That's how much he hates the regular Rich. 
Annie didn't just make a reference to the group's impression of Pierce. The group then went ahead and gave it to us briefly.
Take it away, Dean: "Add Eat, Pray, Love soundtrack to workout mix."
Great stuff all around. Did we miss your favorite quote?
Abed: Troy, make me proud. Be the first black man to make it to the end. | permalink
Dean Pelton: I've been told we need a little baby quarantine until the army gets here. | permalink
Shirley: Leonard, you better back that pumpkin ass up or I'm gonna make a pie. | permalink
Troy: I'm a dracula.
Abed: You mean a vampire?
Troy: I don't need to know which dracula I am to be a dracula. Nerd. | permalink
Jeff: I'm wearing a $6,000 suit, and you spent three days making cardboard box robot armor. | permalink
Annie [on Pierce]: He's acting like the impression of him we do behind his back. | permalink
Jeff: Kristi Yamaguchi?
Chang: Peggy Flemming. You're racist! Just been proven racist by the racist prover. | permalink
Matt Richenthal is the Editor in Chief of TV Fanatic. Follow him on Twitter and on Google+.