Cougar Town Review: "Keeping Me Alive"
at . Comments
Before I get to my review, I just have to take a minute to give the writers props for keeping up the witty titles in the beginning of the episode.  I didn't think it could be done, but they topped the last one with, "100% Cougar Free Cougar Town".
No need for a catchy song intro, just give us witty titles! Just for that title alone, they earned an extra star in my rating.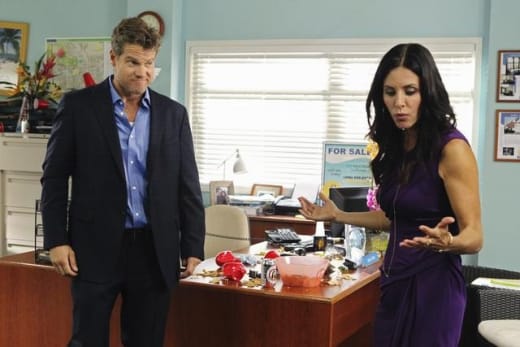 "Keeping Me Alive" may not have been my favorite episode because of all the real life drama. This is a half hour comedy show made to make us laugh, not cry, right?
The whole ending scene with Laurie having to face rejection from Smith had me chocked up. She tried to take it like a man, but alas, she's a woman. And this woman is not made of stone. It was endearing to watch Andy and Grayson try to get her real emotions out of her.
What's great is that this strange mix of people actually formed into a family. Laurie needed to realize that although she may have had her heart broken, she wasn't alone. She has a group of people that really do care about her (even Ellie!). Being able to let go and show these raw emotions is very important in the healing process.
Another breakthrough happened between Jules and Bobby. All this time, Jules had been paying Bobby alimony. Why? Because she felt good in a sense that he still needed her, yet she did not need him.
All of Jules emotions stemmed from the fact that she still was not over Bobby cheating on her. His actions ultimately ruined their marriage and in some atypical way, she liked it.
Since this is only a half hour program, you can imagine that these two storylines pretty much took over the entire episode. Thankfully, there were a couple humorous scenes that I did enjoy: 
Ellie and Travis bonding over the fact that they like to seem smarter than everyone else.
Ellie's uncanny ability to win every time playing penny can.
Jules making margaritas with a rim of Aspirin.
Bobby's unsuccessful capability to help Jules sell homes.
Even though the humor was far and few in between, Cougar Town still has my heart. I love that this show is called Cougar Town and has absolutely nothing to do with a cougar.
Until next week, I leave you with a few of my favorite Cougar Town quotes from last night:
Ellie: I love pretending that I'm better than everybody else.
Travis: Who do you think I got it from.
Ellie: Awe. | permalink
Jules: Hey JJ. That's your girl name.
Travis: Of course. | permalink
Smith: Wow! That was like writing a mechanic bull.
Laurie: We should break up more often. | permalink
Jules: Some of us over did it at the pre no more alimony party party, so I made these margaritas with crushed up aspirin.
Andy: They should market this to drunks! Or us. | permalink
Jules: Wooo! How can I do woo wrong? | permalink
Jules: I can't relate to this dude. He's even to redneck from me and I have a cousin named Grits. | permalink