We got to see the Five-O team working as a well-oiled machine on "Lanakila," as the members stepped up and kicked some major butt.
Last week, we learned what "Five-O" means to Steve. This week, the squad not only adopted it as its name, but had it painted in big letters in the headquarters floor. Every cop in Hawaii appears to have gotten the memo.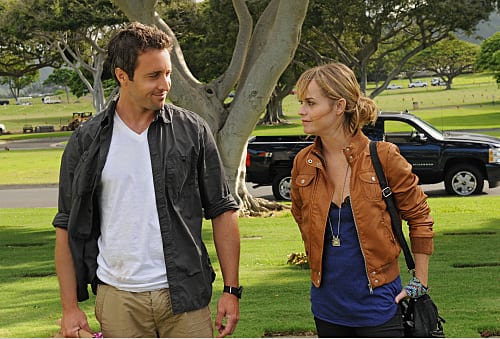 I know I am being nit-picky, but given how the show eased into the name over three episodes, it would have been nice to have seen a bit more transition into it. Besides, it really is the only thing I can pick at since the rest of the episode was awesome (as always.)
We got to meet Steve's sister, Mary, this week, as she came to Hawaii to see her brother and visit their father's grave. While the two have one thing in common (the distaste for Danny's ties) any further commonalities seem to stop there. Actually, Mary appears to be the polar opposite of Steve. While Steve has his act together and is a big-shot cop, Mary was arrested for disabling a smoke detector on a commercial airline.
I'm not sure if we'ill see more of Mary or not. If we do, let's hope we learn more about her and that the writers remember she is a McGarrett and should not be a total lost cause.
As far as the main story went, this week's action was refreshingly different as the team was on a clock to catch an escaped inmate. The writers did a great job of getting the sense of urgency across without moving so fast that they lost part of the audience along the way. Even under a time crunch, Danny and Steve still found plenty of time to do some verbal jousting, which is always fun to watch. 
However, I do blame both of them for the craving I am having for pancakes as I write this.
Now that we are four weeks in I can say with confidence that Hawaii Five-O is my new favorite crime action-drama-comedy (actidramedy? comactrama? dractomedy?) of the 2010 season. I hope it continues on this path and that the writing continues to be as touching, funny, and as well paced as we have seen so far. I know we are expecting some recurring characters soon, so things can only get more interesting from here.
Jim G. is a TV Fanatic Staff Writer. Follow him on Twitter.