This episode of Nikita squashed every doubt I had about Alex.
She is smarter, savvier, and more in touch with Nikita than I could have anticipated. Talk about some spy work on her part! On "The Guardian," we also saw Michael taking some authority, and Nikita attempting to same Emily from the same fate as her fiancé.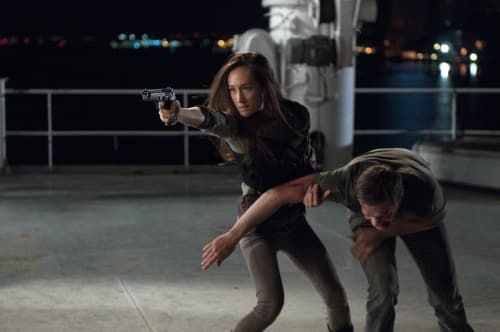 I also despise Percy more than I could have ever anticipated. He has no regard for human life if it can't serve him in any way, and even then, he pulls the trigger once he has what he wants in his hand.
Michael, on the other hand, is growing a bigger backbone every episode, and I can't wait to see him finally follow Percy on one of his outings and take him out.
We got to see more of Nikita's soft side when she tried to save Emily's life, and when she spared Percy's for the sake of innocent people. Guest star Devon Sawa mmadeakes for an awesome Owen, and I'm looking forward to seeing him and Nikita work together in the upcoming episode, as Owen is trained just as well, but is stronger than Nikita.
The only thing I don't understand about Owen is why he fought with Nikita rather than going through with his threat to kill Percy. Looks like someone is struggling with what he thinks is right and wrong.
Who actually believes that Alex didn't expect Thom to kiss her when she went walking into his door with that flirty face on? The chemistry has been building, and I hope if another smooch happens, Thom will let Alex finish what she wanted to say afterwards.
I will never get tired of Nikita's faux identities. The way she gets what she wants, by acting like a scorned girlfriend, or like a visitor who just happens to be at the scene of a crime. The girl just puts herself into character, and pulls creative ideas right out of her back pocket. One of my favorite parts of her character.
This episode left me wondering:
Where is the black box?
When will Owen stop trying to kill Nikita and realize that she's saved his life? 
Where was Amanda this week? That woman always has something to say or someone to torture.
Sound off on the episode as you follow our link and browse through a few Nikita quotes!