Private Practice Review: "Playing God"
Steve Marsi at .
The worlds of Grey's Anatomy and Private Practice often run parallel, and not just when specific stories and characters cross over like Amelia did last night. Both deal with impossibly complex situations and their impact on the fragile psyches of even the most gifted surgeons.
Case in point: Sam coming face to face with the drunk driver who hurt Mia and killed Dell.
Acting not as a rational doctor but as a rightfully angry father and a friend, Sam chokes the heck out of him before he can even finish his apology (his reason for coming).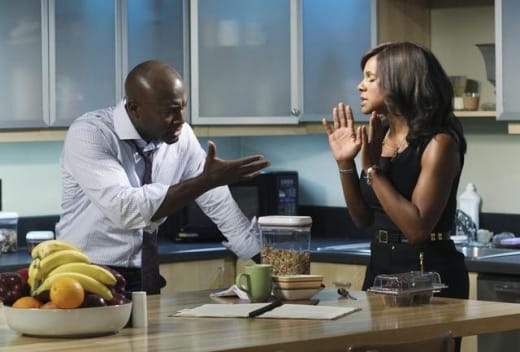 The man goes into cardiac arrest. Considering the circumstances, Sam is unmoved.
This incident not only showcased Taye Diggs' underrated acting chops, it served as a springboard for a flashback to Sam's first solo heart surgery way back in the day.
Harboring a secret, the patient, an ailing teacher, admits to Sam that he's a pedophile moments before being wheeled into the OR. Well, that's some food for thought.
When complications arise, Sam doesn't exactly respond as aggressively as he might have. By omission or ambivalence, he admits he let the pedophile on his watch.
Back in the present, Sam sees something on the driver's scan, but doesn't seem to care. Will history repeat itself? Especially since the driver says he deserves to die?
After telling Addison about the pedophile case, Naomi decides she must talk to Sam. He tells him to have the surgery and informs Charlotte of the hidden aneurysm.
This was an intense, multifaceted plot, as it also revealed to us that in Naomi's mind, the day Sam let a patient die was the beginning of the end for their marriage.
Fortunately, he did the right thing this time around, an in an even more difficult situation, given his deep, personal ties to the patient and the patient's reckless actions.
Also, despite misgivings, Naomi comes clean to Addison about her relationship with Sam and says for them, this doesn't have to be the beginning of the end. Powerful.
Elsewhere, Amelia returns from Grey's Anatomy and asks for a job. She says that she's a catch as far as neurosurgeons go, and Naomi apparently shares that belief.
Charlotte has been seeing someone behind Coop's back ... a real estate agent. His loft is not cutting it for her. The decide to house hunt and conflict predictably ensues.
The long and short of it is that Charlotte wants to start fresh in a new place without any of the bad memories. Cooper attaches good memories to his old place, though.
Cooper? The optimist? Who would have guessed.
Finally, we have Gibby, an old war buddy of Pete who runs a medical clinic out of his house and disturbingly, also performs surgery in a back room. God complex much?
Pete believes he's just helping people who are out of options, but that is a very fine line. When a girl is shot, Pete knows he has to do the right thing and sell out Gibby.
Still, this is a complicated situation, and Pete does understand Gibby's desire to help those in need. So he and Violet agree to find a way for Pete to do some ER shifts.
What did you think of this episode of Private Practice? Comment below!
Steve Marsi is the Managing Editor of TV Fanatic. Follow him on Google+ or email him here.