This episode teetered on the more serious side this week and it left me with an indifferent feeling.
Everything initially started out in good stride. Pete playing a high stakes poker game with lawyers and judges continued to illustrate his playful, daring character. Nick exemplified his desire to be a better father by spending his evening reading to his son. These shots helped identify the characters and continued to demonstrate that this show involves more than just defending clients each week.
The main case of "Nevada v. Carter" is given to Pete. The suspect, Mason, is being charged with armed robbery, but he explains that the witness is lying. The witness was there to purchase marijuana, but an altercation broke out and for some reason he decided not to tell the truth when the police questioned him.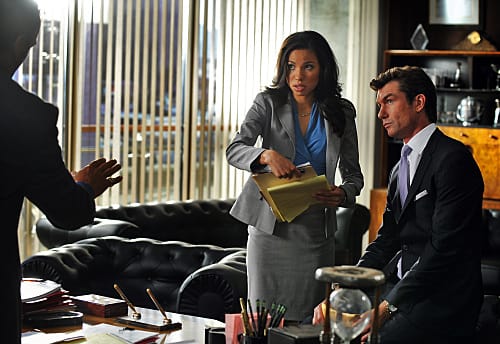 Things start to heat up for Pete when he discovers that he is going to go up against ADA Meredith Kramer, the woman he's been sleeping with. He tries to convince her to make a deal but she says she'd rather fight it out in court.
Talk about an icy shoulder. She shows no real emotional attachments to Pete. For someone who portrays himself as the "player," Pete ends up being the one with the real emotion and compassion.
Yet it is this type of drive that gets him in trouble. He becomes so consumed with wanting to save his client that he gets in the face of the witness and demands him to tell the truth. While seeing another side of Pete is good for character development, it was lacking the composure he normally carries. I agreed with his statement, but I felt like I was beginning to watch a different show.
Meredith, who calls him to the stand to testify, calls his actions into question. Despite finally knowing that the witness lied, she continues to try and defeat Pete and send Mason to jail. Is she really that interested in winning? It was appealing to see that she is able to use clever tricks, too, but it made me wonder why is she such a cold person?
The dramatic feel of the show even worked its way into Nick's defense for Pete. He is usually more playful and witty with his words, but Nick seemed to be laying it on thick. I believe that Pete cared about Mason, but it felt like Nick's arguments were being spoon-fed to the viewer. I assume he needed to do this in order to persuade the jury so there was no doubt in their minds, but I didn't need to have everything explained out to me.
Pete wins his case for Mason, but it didn't feel as exciting of a win. Pete's charm seemed to be replaced with his dramatic drive. I was glad though that Pete refused Meredith's request to go out to dinner. It was good to see that he wouldn't let her run all over him.
Lisa was finally given something more to do, like I had hoped. However, once I knew that exotic dancers were involved, it was only a matter of time before she would help out. After all, who better to connect and defend a client involved with exotic dancing than an ex-exotic dancer? I have to admit it was funny watching her high five and jump around after she won her case.
The humor, something I think makes this show stand out, appeared for moments, but felt absent. When a show like this begins dipping into a serious and overly dramatic side, it becomes too much like every other procedural law show. The spark and charm of the clever lawyers needs to be far more present then the final verdict of the case. I want to be able to wonder what ingenious ways they will win their case, rather then "will they actually win?"
The final moments of the show left me feeling unsure about this episode. Pete visits Mason's friend, who was convicted of the crime he didn't commit. He wants to become his attorney and appeal his case. I like that Pete is taking the initiative to help out, but will this be a case dealt with in a future episode or will it be taken care of off-screen?
I don't mind watching a serious show, but if it is, then it should remain serious. Switching back and forth between serious episodes and comedic ones could make it hard for the series to find its niche. I'm hoping the entertaining and clever antics of Nick and Pete take a front seat in next week's episode because that's what got me hooked in the first place.
What did you think of the episode? Was there too much drama taking place for this show? Where do you hope to see this show go?
Sean McKenna was a TV Fanatic Staff Writer. He retired in May of 2017. Follow him on Twitter.