Bones Review: Snot-Eating Worms and Accidental Intercourse
Steve Marsi at .
Between Sweets and Daisy's courtship, the powerful moral overtones stemming from the slave ship discovery, and some cougar-iffic comedy, this was a solid Bones episode.
Thursday's "The Shallow in the Deep," had something for everyone. Unless you're a Hannah fan, in which case you're out of luck ... then again, are there any Hannah fans?
It was neat to see Sweets play such a big role, from being walked in on by Bones and Booth to his reuniting with Miss Wick over their joint admiration for Saved By the Bell.
You don't wanna be Screech though, Sweets. Not after all this.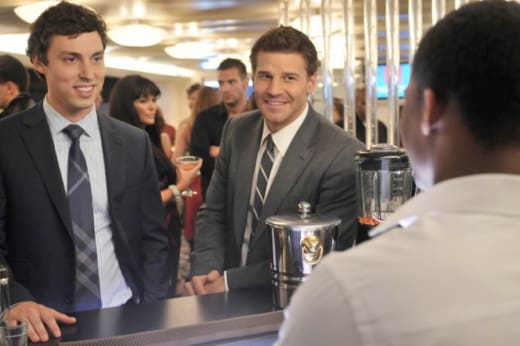 Hunted by cougars and mauled by Daisy, it was a good night for Sweets.
Like Brennan and Booth, there's a facade that they just aren't right for each other. Unlike Booth and Brennan, they throw caution to the wind and just have at it. Will it last?
We'd say probably. Just the way he kept name-dropping Daisy while assisting Booth and Bones in their investigation showed he was never over her or believed his own lies.
There's a real connection between the two, something that transcends the minor things they don't mutually enjoy. It was only a matter of time, and it doesn't feel forced.
Booth and Hannah, on the other hand?
Katheryn Winnick's character was absent this week, but it was hard not to draw parallels (or lack thereof) between her relationship with Booth and Sweets' with Miss Wick.
She and Booth forged a real connection in Afghanistan, but are they even the same people now, in cohabitation but living different lives? Can that bond hold them together?
As for Brennan, did anyone else find her much more positive, even charming and socially comfortable, than in any previous episode this season? Maybe it was her hair.
Could Hannah's absence have brought her out of her shell a bit? Whatever it was, she was downright nice by her standards, and really funny during the Cougar Cruise.
Booth may feel strongly about Hannah, but it's telling that the mere vision of a youngster grinding on Brennan for a split second makes him cringe. He's still got the fire.
Hodgins lost out on the naming rights, but won major props from us.
This week's murder case coincided with the discovery of a slave ship, the Amalia Rose, after Hodgins found a victim killed a month ago mixed in with the ancient remains.
The murder was the primary focal point, but the ID'ing of the slave remains much more powerful. You couldn't help but feel Cam's pain after she made that realization.
Her own great-grandmother was likely aboard the ship, bringing to light a tragedy of unspeakable proportions that we all know happened but would just as soon forget.
Highlighted poignantly by Angela's amazing artwork, the Jeffersonian focused on the human component of the discovery in the exhibit. Like Cam, we were choked up.
Hodgins may not have named a species of sea life after Angela, but he definitely earned her respect (and that of viewers) with some crazy mad scientist skills last night.
First, he ID'd the "snot flowers" on the remains, then had piranhas clean them off, then pinpointed exactly what happened to our victim. Game, set, match Dr. Hodgins!
Sweets also played a case, revealing he lived in four foster homes by age six and that his "score" was two out of five. C'mon Sweets, you're a one if ever one existed.
Look at that face. Some final thoughts ...
Booth cracking every bone in his body to open the episode was an interesting scene. Not just because of Brennan's obvious concern for him, but because the pounding he takes really would cause problems, but you rarely see that actually discussed.
Food for thought: If you're a 22-year-old guy, would this episode make you more or less inclined to go on a Cougar Cruise?
Canoli anyone? Ever again?
What did you think of last night's Bones? Comment below!


Steve Marsi is the Managing Editor of TV Fanatic. Follow him on Google+ or email him here.