CSI: NY Review: "Justified"
at . Comments
One of the things that bring me great satisfaction is when something lives up to the hype.
Tonight's episode of CSI: New York was entirely worthy of the hype that the previews for the episode last week, and justice was served in "Justified."
John Laroquette's small appearances as Chief Carver in this season of CSI: New York have led to this one episode, and defining moment for the character.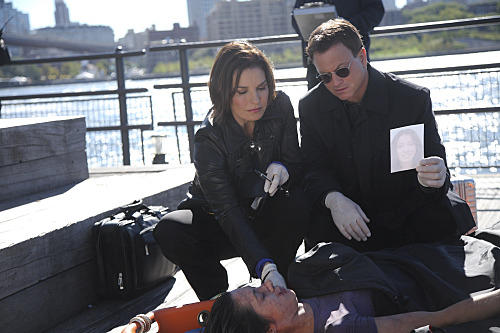 People can complain all they like that his presence on screen had been too minimal to praise him for his outstanding portrayal of Chief Carver in the last few episodes, but the best actors, the best characters, can leave an impact just by walking on screen. John Laroquette did that with the character of Chief Carver, and this episode just magnified the excellence of the work.
I was actually thrilled with the entire cast for this episode. The interaction was solid and pulled together a mystery that took some time to unravel. 
Jo Danville's handling of Mack to keep him from making a move on Chief Carver before all the evidence and facts were at hand was wonderful to watch.
Part of Jo's past could be viewed in the way she worded things to Mack. It had been revealed in previous episodes that Jo had blown the whistle on a fellow colleague before arriving at New York, and because of that past her concern for Mack in that moment was palpable.
The reveal that Chief Carver's nephew had actually been the killer was a nice twist, and one the viewer could piece together along with the CSIs if attention to the evidence was closely followed. Often, I'm not always happy when I figure out the mystery before the reveal, but I think for this episode the timing for all the pieces to fall into place was executed perfectly.
Chief Carver was striped of his office at the end of the episode for covering up the crime, but it would be nice if the character made a few random returns to help Mack and the rest of the crew out in future episodes.
Emotion, drama, the right reveals at the perfect moments, and great characters made this episode a gem to watch. Due credit should be given to the writers for such a lovely show.
There's no new episode next week. Have a happy and safe holiday.