CSI Review: "Bump and Grind"
at . Comments
CSI opened this week with a force fed meal and a body shredded to pieces. But while the storyline on "Bump and Grind" was delightfully wicked, what I really relished were the slivers of character insight.
I admit it, when Brass shined a light on the eyeball in the back of the truck, I squealed with joy. I like my CSI episodes sort of gross because that makes them fun.
It was nice to see pretty much all the CSIs getting down and dirty, too. Having Sara, Hodges and Greg play Roshambo for the honors of sorting out the human "yuck" from the rest of the shredded debris was fun, and still got the job done of providing the audience with clues.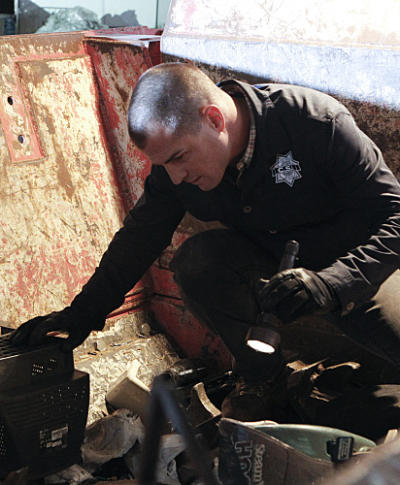 Granted, there may have been one too many shredder jokes. The writers seemed to get over zealous sometimes with the puns, but I could forgive them because they remembed to add in some character development. 
It was nice to get little updates on how the CSIs and Hodges were doing on a personal level, and it was nice to see the cast starting to act like a family again.
Ray had some internal battles to fight as Nate Haskell mocked him from jail. The kidney bean in the letter was a devilish touch.  Sara offered Ray some sage advice on the matter, and it should be interesting to see if Ray heeds it. His past issues with his father have shown that Ray has difficulty letting the past go.
Catherine seemed uncertain about the entire lab knowing about her relationship with Detective Vartann.  Her slight revenge on Hodges at the end of the episode - stating that, "people talk" -  was a lovely, playful sting.
Nick didn't think he required further counciling for his ordeal with the Jekyll case, and it was interesting to see Catherine looking skeptical, but trusting his word.
Hodges still wasn't over losing Wendy, and... I'm with him on that. His man-date with Greg that didn't happen was very cute and very Hodges.
The one thing that's still veiled in mist was what was happening between Sara and Grissom. She made a reference to ships passing being a difficult relationship, but left things there. I'm hoping that more information will be revealed as the season continues.
I was actually surprised by the ending this week. I'm not often taken off guard, and I suppose I should have known there was a reason that there was emphasis being put on the sexy administrative assistant,  but I took her for granted. And that's (hopefully) exactly what the writers wanted me to do.
All around, I'm happy that CSI was back on track with another classic episode, one with an appropriate amount character development. What did you think?