Glee really is turning into a series of hour-long Public Service Announcements.
The topic on "Never Been Kissed?" Bullying. An important and relevant one, no doubt. But the way in which the episode forced the issue and insisted that each storyline was an example of this troubling action made me roll my eyes more often than dab them from tears, of laughter or of sorrow.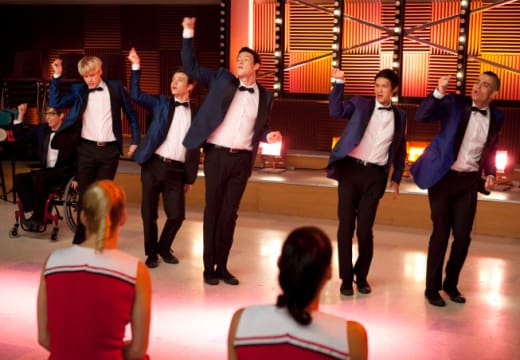 Kurt, of course, was the focus of the hour - and I very much enjoyed his time on screen. Darren Criss was perfectly cast as Blaine and it makes perfect sense we'd dedicate an installment to the struggle Kurt faces as the only openly gay student at William McKinley.
It's also nice to see this relationship established as more of a mentor/student type than an immediate romance. Someone like Blaine would definitely take someone like Kurt under his homosexual wing before even contemplating anything more.
And the rendition of "Teenage Dream?!?" Sorry, Katy Perry, you've been shown up.
Still, I take issue with the football player kissing Kurt. Was it shocking? Absolutely. But it was also the easy way out. I'm sure there are many closeted jocks out there who only know how to deal with their feelings by turning against them in a violent, abusive manner.
However, I'm also confident in saying that a majority of bullies are simply mean because they are high school students, and most high school students are insecure, and a number of them deal with that insecurity by putting others down. Granted, Glee treads in over-the-top stereotypes, from gay Kurt to diva Rachel to dim-witted Finn. And the type of bully I just described is more nuanced and complicated.
But if a show is gonna tackle a realistic issue such as bullying, I'd prefer if it did it in a realistic manner. This kiss didn't feel like that that. It felt like a convenient way for the writers to tie Kurt's storyline together.
Mainly, though, I had a Beiste of a problem with this episode. First, Glee's habit of overdoing stereotypes came into play. A significant number of high school girls fall somewhere in between Santana and Rachel. They don't either spread their legs for everyone who takes them to Breadsticks, or keep them closed no matter how long they've been dating someone.
So it feels like a stretch to have so many characters picturing Coach Beiste in order to... relax. That complaint aside, did the kids really do anything wrong? Will was the one who blabbed their secret to Beiste. They were supposed to feel badly because of their personal thought process?!?
I've read columns by other critics that have called out Will for no longer being a character. He's merely a device for the writers to move various plots along. That's very much what it felt like here.
Look, thinking unsexy thoughts is something many guys do in those situations. And, I'm sorry, but Coach Beiste is unattractive. Sure, she might be beautiful on the inside and, absolutely, there's an important message to send about that. But the way this episode went about it felt cheap and manipulative.
In the end, as much as I absolutely loved the "Stop in the Name of Love/Free Your Mind" mash-up, I don't think the guys had anything to apologize for. Do you?
Finally, we get to Will and Beiste's kiss. Was this really as sweet a moment as the show wanted it to be? Will gave her a great speech. I was on board for all of it. But no matter how much you dress it up or pretend otherwise, he kissed her out of pity. It was a rather presumptuous move, as Beiste may very well have wanted her first smooch to be with a man who had actual feelings for her.
Not someone, who, again, feels more and more like a person who is around to make whatever points the writers want to make every episode about their Pressing Societal Topic of the Week.
Overall, I still love Glee. I love that it's different and that it tackles vital issues in interesting ways. But there are times when it goes overboard in trying to take a stand. My favorite episodes are ones that incorporate messages and points of view into an episode that might not directly deal with sex, or bullying, or Britney Spears.
I may receive flak for it, but "Never Been Kissed" didn't fall into that category for me. What did everyone else think?
Matt Richenthal is the Editor in Chief of TV Fanatic. Follow him on Twitter and on Google+.