Gossip Girl Review: Poor Dan, Poorer Juliet and Holy Chairifornication!
Steve Marsi at .
With heavy doses of hate sex, humor and twisted scheming, with a mega-teaser for next week to close it out, last night's Gossip Girl was everything we thought it could be.
Between Chuck and Blair's dueling, equally inept approaches to quitting the other to the gang confusing the heck out of the Dean (and us) to bail out S, it was GG at its best.
Counting the number of breakups may require a second hand, but that's par for the course. Juliet's plot was finally exposed (sort of), but she'll be back with reinforcements.
NJBC vs. the Outsiders? This is going to be good. Anyone taking bets?
THIS NEEDS TO END: So Blair said. We couldn't disagree more.
"Juliet Doesn't Live Here Anymore" was proof that in the Gossip Girl universe, anything goes as long as you're invested and amused. We were definitely both throughout.
Most of the comic relief was provided by Chuck and Blair, who turned what could have been a completely lame plot line into one of the funniest ones we've seen in while.
Determined to break the cycle of hate sex, Blair wants a Bassectomy, to quit cold turkey. Chuck, meanwhile, wants Queen B to limber up for some "immersion therapy."
Pretty much every word out of either one was classic - conjuring up memories of old school, sleazy Chuck, only chasing Blair this time - as they tried to figure this out.
What made it truly great was the end, though. War games? Just friends? Hate sex? Check, check and check. Let's face it, they belong together, it's just a matter of time.
While Chair's sexual escapades took place throughout the episode, the main story line(s) involved Dan, Serena and Vanessa's plan to expose both Serena and later Juliet.
If you got confused reading that last sentence, that's appropriate, given how many twists this night took. But as we say, when it works, it works, and it definitely worked.
Dan decides he has feelings for Serena again (shocker there), and tells her to break up with Colin if he won't quit teaching for her. Which backfires after he does. Poor Dan.
At the same time, Nate goes to drop off Juliet's things and lied about where she lives, then enlists Vanessa to help get to the bottom of ... whatever the impostor's up to.
The secret Juliet was keeping is that she's ... poor. We still don't know why Serena is the bane of her existence, but she's merely fronting that she's an Upper East Sider.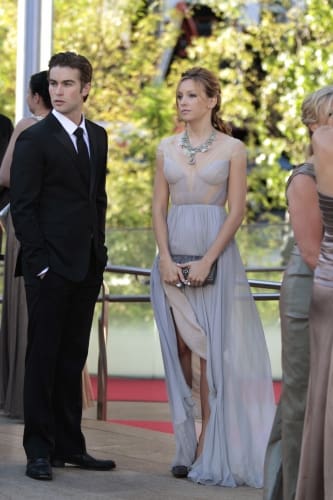 FAIL: Juliet was no match for our Upper East Siders. But in Round 2 ...
Naturally, this garners sympathy from Nate, who gives her another shot, but only after Vanessa somehow bribed her way in (yeah, right) to Juliet's modest apartment.
There, she found the pics of Serena and Colin, who had just convinced Juliet to let Ben serve time in jail for what he did (we still don't know), accept it and move on.
We did learn that Ben was a teacher of some kind, and that Colin thinks he deserves to be in jail. His link to Serena is still unclear, however. Boarding school, maybe?
Anyway, had Vanessa not broken in, things might have gone smoothly. But it's V. She's been beaten too many times to act rationally. You know she's gonna go rogue.
Things came to a head at the ballet they all attended, but right as Vanessa (and somehow Juliet) planned to expose Serena and Colin to the Dean, the gang intervened.
Colin announced he quit. Blair lied and said she slept with him. Chuck delivered some raspy-voiced nonsense. Blair ganked the flash drive and plopped it in champagne.
It was awesome. You could Juliet's her plan fizzled. Is this thing on?
Later, Colin skipped town to "focus on business," leaving Serena lonely and calling up Dan to "console her." But Nate ran into her first and begged for a second chance.
Which, apparently, he's going to get. Poor Dan again. Since Dena helped hook us on GG, we have a soft spot for that couple, but we enjoy Serenate as well. Tough call.
The episode concluded on a supremely awesome note when the vanquished Juliet joined forces with Vanessa and enlisted another outcast to join their crusade: Jenny.
As the saying goes, the enemy of my enemy is my friend. Give Juliet and Vanessa credit for this at least, they don't take defeat sitting down, and they know their limits.
To stand any chance of victory against the NJBC, they need to call in the big guns. We have no clue what they'll try to pull off, but it'll be a hell of a lot of fun to watch.
** - NJBC = Non-Judging Breakfast Club, an unofficial support group formed back in Season One by Chuck, Blair, Nate and Serena, after she revealed she killed someone.
What did you think of Monday's Gossip Girl? How much do you love Chair? Do you prefer Derena or Serenate? Do the outsiders stand a chance? Discuss!
Steve Marsi is the Managing Editor of TV Fanatic. Follow him on Google+ or email him here.