Detective Wallowski made a return visit to Lightman on "Smoked" and brought with her a case drenched in family drama, as the daughter of a BBQ restaurant founder was murdered during a robbery.
It was great to see Wallowski again. This meant that Lightman was juggling the two dominate women in his life throughout the hour, trying to keep Gillian and Wallowski away from each other. Why? Because he had to lie to Gillian about Wallowski when she was under investigation.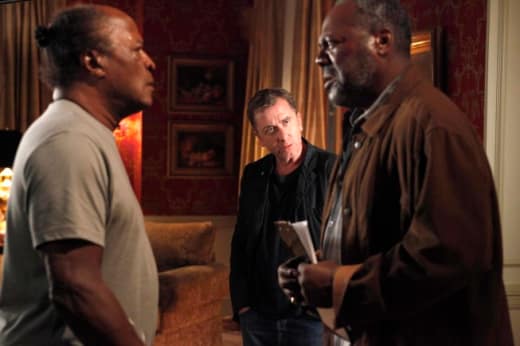 Maybe Cal actually has three dominate women in his life. Emily Lightman has truly grown into her own, steering Cal as well as Gillian can, keeping him on track with his book. I noticed that he didn't argue with her more than he would have with Gillian when she took his laptop. He also had zero defense against her blank stare when discussion turned to Wallowski and Gillian getting along.
As bold and brash as Cal Lightman is, you can tell he needs strong women in his life to work as bumpers to help keep him "in bounds" and at least mostly playing by the rules. In fact, has anyone else noticed there isn't a weak woman in his life? Wallowski, Gillian, Emily, and even his ex-wife Zoe are all self-assured.
Even protégé Ria is a strong woman; however, tonight we got to see a glimpse of her vulnerable side when the camera got stolen. I really wish we could have gotten some flashbacks or back story on the jacket she dug out and was wearing as "armor." I was really enjoyed the "hands-on" time with Ria in her old stomping grounds, as she went looking for the guy who took the camera.
I'm also hoping that we get to see more of the guy who took the camera (did they ever give him a name?), as it looks like the student may be on her way to being the master if he becomes a trainee. Which makes me wonder if the questions that we got to ask Monica Raymund helped spawn the idea of her getting a minion of her own.
Overall, it was another excellent episode. Season three is shaping up to be one of the strongest seasons on the books for Lie to Me. Now. if only Lightman can get that pesky book finished...
Jim G. is a TV Fanatic Staff Writer. Follow him on Twitter.