Sons of Anarchy Season Finale Review: "NS"

Dan Forcella at .
While it in no way makes up for the struggles of the first two-thirds of the season, the final stretch of Sons of Anarchy has been absolutely fantastic. The third season finale, "NS," had excitement, drama, surprises, and left me asking questions about what would happen next.
For the final 30 minutes I was on the edge of my seat, holding my breath, as well as any other cliche you'd like to use to explain how riveting the final chapter of this season was.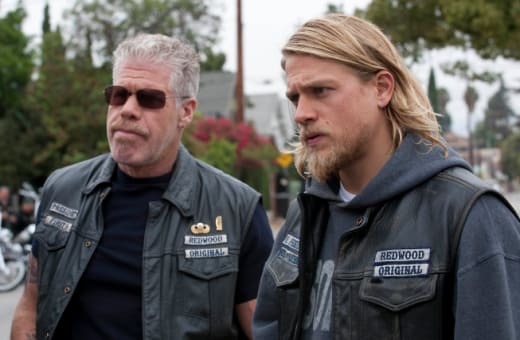 I had no idea what SAMCRO's plan was as they drove off to make the deal with the Russians for Jimmy O. There was a point where I was ready for everyone to pull their guns out and kill each other. Then I thought that maybe everything ended swimmingly with Jax's original plan working out perfectly. And then once Stahl ratted Jackson out as a rat himself, I was prepared to cry for my favorite Vice President.
It was just a very nice fake-out by both SAMCRO and Sutter and company.
Neither Stahl, the Russians, nor I knew what was going on. Nice acting by both Charlie Hunnam as Jackson Teller in that moment, as the ATF thought they had won, Jimmy O thought he was escaping death, and I thought Jax was screwed with his club. 
At the same time ,though, as for a majority of the season, I wondered what the big deal was. I understand that ratting anything or anyone out to the Feds is a huge no-no in the outlaw business, but Jax was getting Gemma out of prison, severely shortening SAMCRO's sentence, and screwing over some Irish that none of them were close to.
I don't get why the club would have been so outraged with Jackson.
It was nice to see SAMCRO, and the show itself, let those who had been hurt by Jimmy O and Stahl, respectively, be the ones to finish them off. I really had forgotten that Chibs and Opie were not with the rest of the crew up until I saw them arrive to the scene in the school bus.
Now, I was not surprised at all to see Chibs slice up Jimmy with scars not unlike his own before murdering him, but I was a bit shocked by Opie's murderous ways. I know Stahl is an awful human being, who played a large role in the death of Donna, but I did not want to see Opie as an executioner.
Now that Jax has made his choice to say "screw you dad, I'm going with Mom and Clay," I thought Opie was my only hope of a Son staying semi-straight. So what will Jax's mindset be next season? He's committed to Gemma and Clay more than ever, making the dilemma of what he'll do when he learns the truth about their past with his father utterly fascinating to ponder.
Let us not just skim over that fact. It was implied since the beginning, but stated here that the leaders of the club we are supposed to have feelings for murdered the founder of Sons of Anarchy.
Our protagonist's father. The man that this whole series may well be about. He was murdered, or at least ordered to death, by Clay and Gemma. Because he wasn't into the outlaw ways of the club? Was he a rat?  Jax's comments about not being like his father make it seem that way.
No matter what the reason, I hold John Teller in such high esteem that I automatically dislike these two characters much more than I already did.
The big question is what does this do to Jax. Jackson started the series as a guy that didn't really want the outlaw life. He then struggled for a couple of seasons with what he wanted for his life and the life of his children. If the events of this week's episode ring true to his actual motives, it seems Jax has chosen the dark side for the time being.
If Sons of Anarchy is about Jax's heroic journey, I can foresee him coming back to struggle with things, and in the end choosing to lead a better life for both him and his family. Whether that is changing what the Sons of Anarchy do, or quitting the club, Jackson Teller will get out of the business.
Let's just hope that it doesn't end the same way it did for his father.
Dan Forcella is a TV Fanatic Staff Writer. Follow him on Twitter.