When I first finished this week's episode of Sons of Anarchy, I wanted to write about how I was once again disappointed. After a bit more thought, I realized that "Turas" had too many moments that either made me think or made me nervous to not be satisfied.
The first of these moments was when the boys began their gun running journey. There was a whole lot of anticipation building in me as they rode along the winding roads of Northern Ireland. When they got stopped by the cops at some border, things only got more intense.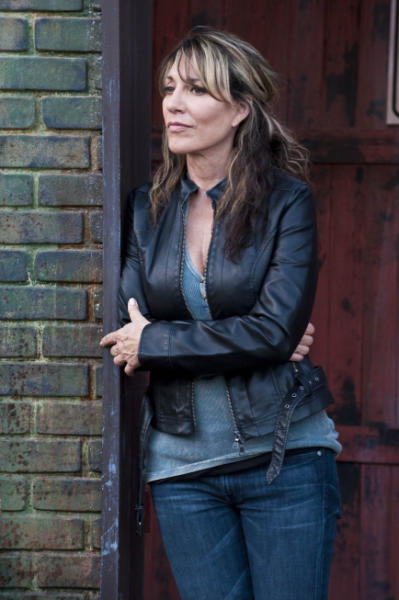 Not fully aware of what Jimmy's, O'Neill's, or McGee's plan was for this trip, I didn't know what to expect as Clay and the boys tried to make there way through.  Like McGee, I was surprised the cops let them through without a problem.
I was on the edge of my seat, half expecting the cops and the Sons to pull out their guns and have a blood bath right then and there.
Later I realized that this was Jimmy and Liam's plan the entire time since they wanted SAMCRO to make their way to the barn of guns so they could get blown up.
So where did McGee fit into all of this? He obviously had no idea what was going on at the border or at the barn. So when Liam told Jimmy that he didn't know if McGee had the heart for all this, he then decided to keep him out of the loop? 
That makes sense, but what I don't get is what McGee thought the plan was. Was it just to have the cops stop them and detain the Sons and send them back to the US? That wouldn't be much of a dirty plan. I feel like the plotting was a little off on that, but the emotions the moment built up were definitely not lacking.
The next big moment was when Jimmy O and his boy came to the Belfast house looking for Fiona and Kerrianne. First, it was great to see the ladies of the Sons take control of the situation. Whoever said that a house full of women couldn't disarm a couple of IRA shot-callers was just wrong. After Jimmy shot that one dude right in the head, I got extremely nervous that someone else might go down.
Once Gemma got a gun in her hand, I thought that person was going to be Jimmy.  After Fiona stopped her, and let Jimmy go, I was absolutely relieved.
Jax still has his deal with Stahl that requires him to bring Jimmy O back to the US alive. Which begs the question, why wouldn't Jax tell a couple people his plan so that it would be easier to achieve? If no one knows what you want done, it's much harder to account for everyone's actions... especially with this crazy bunch.
And finally we get to the fantastic scene at the barn of guns. Because I have such a difficult time understanding all of the Irish accents, I didn't catch Jimmy's discussion about getting them to the barn at the beginning of the episode. Therefore I didn't have a hang of what was about to go down as they all sat around in the barn. Even Jax had a better feeling that something was wrong and he didn't even get to watch Jimmy O talk about it.
But yes the masterful plan was to lock everybody in the barn and have O'Neill set off the bomb that was in the truck of guns. Well maybe Liam actually did have to take a "murderous shite" because his button pushing timing was too late. After the 15 year old IRA kids locked up the barn, they broke out, smashing through the door with the truck. There were numerous deaths and injuries, but no SAMCRO members were seriously injured. That was a major problem for me.
The scene following the explosion was so well done, with the use of sound and the fantastic camera angles, but if you want this moment to resonate with me, there needs to be major consequences.  Hale's death, Sack's death, Donna's death. These were iconic moments in the series. 
I know that this event signifies that there truly is a major divide within the Sons of Anarchy, but that wasn't enough for me to give that scene the love that it deserved. I know I'm sounding morbid right now, but if you don't have the courage to kill some characters off in those moments, I most likely won't be as nervous the next time around.  And it is those nerve racking moments that make shows like Sons of Anarchy so good.
Other thoughts:
Although I wasn't loving any Tara scenes this week, I have high hopes for where things are heading in that regard.  Does Salazar want to kill her?  Hold her hostage for something?  Will he kill the tattoo hiding supervisor?  Could make for some great moments in the closing episodes of the season.
The Jackson and Trinity incest show continued.  At this point I really want them to hook up, if only to teach Gemma a lesson.  This secret is not worth keeping at this point!  What, John had a kid with Mo?  How is that so bad?  Like Jax wouldn't expect something like that about his father?  I don't get it Gemma.  When you see your son putting moves on his sister, scream out "Yuk! Stop! Get your arm off her! You are brother and sisterrrrrrrrrrrr!"
So Stahl is keeping plenty of secrets from her partner.  Here's the thing.  If you need to lie about who you were just on the phone with, you don't leave it unattended while you take a shower.  Crucial mistake.
Jax having visions of John Teller...fantastic.
Jimmy O's laugh once he realized he wasn't going to be shot in the head by Gemma... hilarious.
I'm still not loving the Charming stories.  The Tig, Kozik and Piney stuff, the Hale and Unser stuff, nor the Tara stuff held my interest more than a moment.
Dan Forcella is a TV Fanatic Staff Writer. Follow him on Twitter.