The Defenders Review: "Nevada v. Black Betty"

Sean McKenna at .
Thanks to "Nevada v. Black Betty," my hope for this show has been restored. That's what can happen with a solid and fun episode.
I've mentioned in previous reviews that the best part about The Defenders is when its two lead characters work together. When Nick and Pete are separated by their respective cases, they are unable to exhibit their chemistry and witty, playful banter.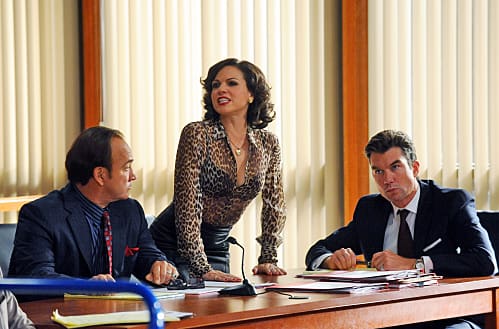 That's why it was refreshing to have Nick and Pete focus on a single case this week. The banter between the duo was continuous and humorous. Among the highlights: Getting hired by Betty, Nick acting like he's not interested in the case, and Pete becoming annoyed with the obnoxious snoring by Nick.
The jokes even continued when the spicy and outspoken Betty joined in their conversation.
Aside from the quips, this episode showed how exceptional Nick and Pete become when they work together.
Pete brought passion and excitement to the case, which eventually convinced a reluctant Nick to join. In turn, Nick revealed his veteran skills and smarts as he aided Pete in the courtroom arguments. Both of these lawyers learned from each other and that allowed them to improve at their craft. They complement their abilities, sometimes without even realizing it.
Their excellence in courtroom skills continued as they persuaded the jury that their client didn't kill her boyfriend. Rolling the sofa into the room in order to show the jury how the boyfriend could have accidentally suffocated himself made me laugh. I don't know if yo'are allowed these types of "theatrics" in reality, but I didn't mind. It was fun to watch.
Even their persuasion of Betty's transformation in appearance showcased their talents.  She normally wore revealing and provocative clothing, which added to her hated image. Utilizing the great song "Black Betty" for a second time was a perfect touch for this moment. I was honestly shocked at how different both Betty and Lisa Tyler looked after they traded clothes. It's surprising what a style of fabric can do for your appearance.
I was pleased with the conclusion, as well. Sure, Jim Belushi singing was a little corny. However, getting a lighthearted moment and multiple back and forth lines between the two lawyers rounded out a great episode. All in all, the perfect combo of charisma and seriousness. I know this show is capable of doing it every time and I look forward to next week.
Sean McKenna was a TV Fanatic Staff Writer. He retired in May of 2017. Follow him on Twitter.