There are two kinds of people in this world: those that like Michael Scott and those that hate him.  I love him.  In this week's episode of The Office, "Christening," the branch manager went from goofy, to angry, to infatuated, to excited, to sad.  It's this erratic behavior that make him so entertaining to watch.
We began this week at the start of Cece's Christening, and of course Michael wanted to be the godfather.  He wanted to be so much so that he laid the Don Corleone voice on rather thick, and then was extremely upset that Pam and Jim chose a couple from "mommy and me" class over him.  There was your goofy.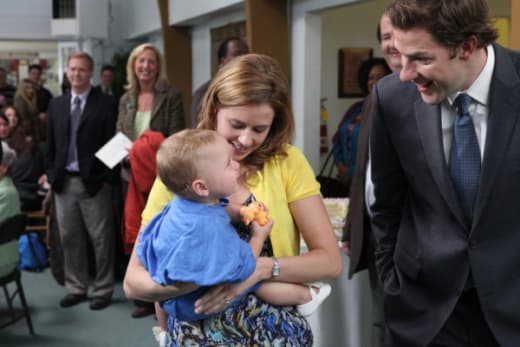 Next, we got angry.  Michael was peeved, but I was laughing because I don't care what the situation is, when you call a baby a b*tch, it's hilarious.
The king of all mood swings, Michael quickly became infatuated with all the church going people around him. He saw all of the missionaries having a blast at their reception table and decided the Dunder Mifflin-ites have to have as much fun as them.
When he fails to get this done, Michael decides to go see the missionaries off.  Like the ridiculous person that Michael is, he gets so excited about their mission to Mexico, he follows them right onto the bus.  I think it was mostly to get a few goodbye hugs by the other church goers, but he was still pumped to help out the less fortunate.
And... cue the sadness.  In what seemed like about two minutes after the bus began its trip to Mexico, Michael was depressed about his decision to leave Scranton.  His ability to turn on all of those around him that quickly should be documented.
Elsewhere: Between Ryan trying to get on the Internet at Church, Toby debating whether to go inside, Dwight finding angles to sell more paper to the religious, and Angela using a super cute friendly voice to the baby, there was a lot to laugh at this week.
My one problem with the episode?  Jim and Pam.  It was like when Jim was the Dunder Mifflin manager all over again.  I realize that the show needs some sanity to balance the craziness of the rest of the characters, but these two were extremely serious this week.  Jim changing a diaper and putting a t-shirt on Cece doesn't count as funny.
But these Office quotes sure do! Browse through the best from a solid outing now:
Toby [to God]: Why you always gotta be so mean to me? | permalink
Dwight (on phone): Hello, it's Dwight from the vestibule. You wanna know my 11th commandment? I will not be undersold. I am ready to love thy neighbor with these kinda discounts. | permalink
Ryan: For all their generosity of spirit, they password protect their wireless?
Kelly: Try Jesus. | permalink
Dwight: As a gift to this beautiful congregation I would like to offer...a four percent discount on all Dunder Mifflin/Sabre products, if you buy a printer at full price. | permalink
Ryan: I've been to that place. If you go to Cabo San Lucas, all the prostitutes are from Cabo Corrientes. | permalink
Pam: It's just that if a vampire coughed he would do it like this (coughs into crook of elbow).
Dwight: Right, and ruin their cloaks? Do you have any idea how expensive wool is in Transylvania? 'Cause of the Euro. | permalink
Dan Forcella is a TV Fanatic Staff Writer. Follow him on Twitter.