This week's The Office, like most of the episodes in the early part of season seven, provided a central storyline to showcase Steve Carrell as he continues his final year with the show, while also allowing many of the other characters to shine in smaller roles, leaving the the audience to wonder: what will this series will be like without Michael Scott?
For "Viewing Party," the Dunder Mifflin-ites made their way over to Gabe's house for Erin's Glee party.  I know the musical comedy is a phenomenon, but I still don't understand why an NBC show would give so much attention to a FOX hit.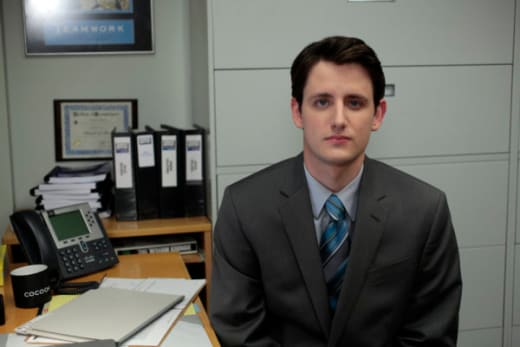 I loved many of the characters reactions to Glee, including Kelly's love of the show, but hatred of its plot holes, how Dwight would rather watch a show called Thirst and Phyllis wanting to know which character is actually named "Glee."
Throughout the episode, Michael acted as crazy as ever, as he tossed pizza dough into the ceiling fan, watched the episode alone in a bedroom and cut the cable from behind the house, but I was absolutely okay with why he was acting this way.
Gabe is the absolute worst, and if people are going to think he's the boss of Dunder Mifflin Scranton instead of Michael, I'd be fine with Michael throwing pizza sauce and pepperoni all over that place.  The fact that he wanted to turn the volume down at a viewing party so he could have a conversation cost him any credit he thought he was going to get from me.
Once Erin found out that Michael was the one that actually cut the cable, she explained that she just wanted Michael to like Gabe.  Then, they had some weird interaction where Michael realized that maybe he is thought of as a father by Erin.
So, about Gabe being looked at as the boss around the office... a hint of things to come?  I could live with Gabe as the leader of Dunder Mifflin Scranton for awhile, as long as no one in the office gave him any respect.  I'm talking about a manager that everyone absolutely hates all of the time.  And not in the way that the employees make fun of Michael for being dumb.  I mean absolutely detest, like the way that I currently cannot stand Gabe.
Tonight's B story had its moments, as well.  Not from Jim or Pam of course, because they're never interesting, but from Mr. Dwight Kurt Schrute.  Just the simple fact that he is a natural at getting Cece to stop crying is great.  Him forcing Jim to feed him single pepperonis and pour beer into his mouth just made the whole thing fantastic. 
Other Thoughts:
Michael walking through the office pretending to be mad and busy while Erin nags about her party was pretty fantastic.  The fact that she can't tell when he's joking is awesome.
Dwight's casual invitation to Angela to have intercourse was also pretty great.
Guns are no laughing matter, but Michael telling Pam to shoot him the gun he has in his desk if he ever act like Gabe, was hilarious.
I love Dwight's honesty as he admitted to being one of the people that didn't follow Michael into the bedroom.
And Creed reads Japanese.
As always, we've collected the best The Office quotes from the episode. Check them out now!
Dan Forcella is a TV Fanatic Staff Writer. Follow him on Twitter.