With Dean and Hank having graduated earlier this year, it only made sense to end the season with a prom. However, just like all things Venture Brothers, "Operation P.R.O.M." had more going for it than you'd expect.
Indeed, this week's one-hour season finale had so many game changers, it's best to break it down by item: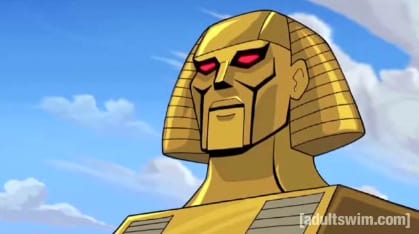 Henchman 21: Henchman 21 (Gary) quit the Monarch after working with SPHINX and realizing he has more to offer than just being part of a bumbling organization. He also has rid himself of 24's ghost. It will be interesting to see if he comes back as a member of SPHINX, OSI or on his own.
Sgt. Hatred
: Hatred had becomes the boy's bodyguard and, as of this episode, he no longer has the giant red "H" on his face. Now he has a blue "V" for Venture. He also learned that his girlfriend princess tiny-feet is much more into S/M that he thought.
Dean and Triana: Poor Dean learned that Triana has a new boyfriend who is able to play the cool card and the sympathy card at the same time. Sorry, Dean, you never stood a chance.
Molotov Cocktease: Molotov and Brock finally had their last fight, as Molotov first said she was giving up the "bad life" and was in love with Monstroso. Second, she said she would rather die than let Brock arrest her and last we saw of her, the limo with her and Monstroso exploded after it went backwards off a cliff.
OSI/SPHINX: We knew that OSI had orders to arrest any SPHINX member and that the two agencies have not gotten along (especially since most SPHINX are ex-OSI).  But this episode was a big game-changer as Col Hunter Gathers was left in charge of OSI and the General shot himself into space to find a cure for his cancer.
Overall, a really good episode, as the credits ended with the notice "Venture Brothers will be back." So it looks like we will get a fifth season of Team Venture. What did you think of this week's season finale? Read through the best quotes from the season NOW!
Jim G. is a TV Fanatic Staff Writer. Follow him on Twitter.