Weeds Review: "Viking Pride"
at .
So we finally find out who Ellis Tate is on tonight's episode, "Viking Pride."
With a little bit of Nancy Drew investigation, Nancy figures out that Ellis isn't who he said he was and actually is a reporter trying to write her story.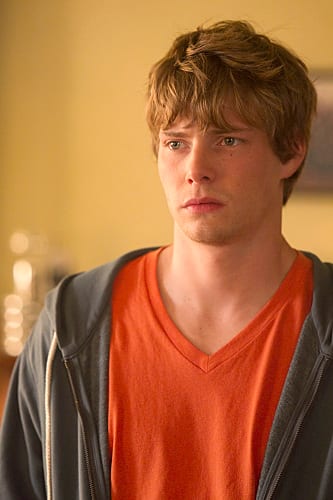 Was I the only person a bit disappointed with the turn of events? Everything felt a bit anticlimactic to me. I really hoped that this Ellis person was someone that worked for Esteban. Isn't he a high powered mobster/government official?
All Esteban did was send his two goons out in search of Nancy & Co. Wouldn't he have Private Eyes, etc. searching for her?
In any case, it was fun watching Nancy get owned by the nerdy librarian.
We learn that not only was Nancy the popular girl in high school that everyone loved to hate, but they had a reason for it too - she was a huge b*tch! Basically because Nancy called her a prude, it made her into a huge slut and gave her herpes. Now, she works in the school library. What a wonderful life.
Silas went to visit Lars again to feel him out and see if he may be his biological father. After a few mano y mano beers, Silas admits that he thinks Lars is his father. Of course, we don't know whether this is true or not, but I have to agree with Silas on this one. Nancy has a track record of being a terrible mother, adding liar to that list wouldn't be so far fetched. What do you think? Is Silas really a Botwin?
Probably the most hilarious scenario from tonight's episode had to be Warren drinking Andy's concoction.
Shane warns him not to drink it, but of course Warren doesn't listen to him. He's too busy creating the fairy-tail life that he thinks he'll have with Nancy.
Seriously, Nancy's definitely a MILF and all, but what's the deal here? Why is it that every guy wants a piece and/or becomes obsessed with her? It's pretty funny that Ellis points out that all these men end up marrying her.
Doug doesn't have a huge role in tonight's episode, which is why I took away a half star. This guy is pure comical genius, why not take advantage man?
Andy decides to make a deal with the club owner. Really? Why in the world would he do that? Did he not realize that this guy is a loose canon? I can't foresee this plot going anywhere good.
Overall, this week's episode was meh in my book. I don't know what kind of deal Nancy cut with the reporter, but can he really offer her the protection she needs?
Until next week, here are a few of my favorite Weeds quotes from tonight:
Andy: Bro five. What up. L'chaim.
Club owner: What?
Andy: Nothing. I forgot where I was for a second. | permalink
Shane: Always the babysitter, awesome. | permalink
Nancy: Did you get the passports?
Andy: No.
Nancy: What, do we need more money?
Andy: We need Shane, actually.
Nancy: What?
Andy: We need to kill somebody. | permalink
Silas: (to Lars) I think I'm your son. | permalink
Warren: What does that mean - relax Warren? Everyone's telling me to relax. Relax Warren, relax! | permalink
Shane: Dude, give up the dream. | permalink
Warren: Look, I'm not an idiot. I know she's not committed yet, but your mother loved me once and that will happen again. | permalink
Doug: Hey what did you use for my picture? The one where I'm eating a cheesecake on a stick? | permalink