What can I say about "Chain Reaction of Mental Anguish?" It was what it was.  It was the continuation of a decent season, but it didn't pack as much of a punch as the past two episodes.
I really enjoy Michael Benjamin Washington as Tracy's fake son that is two years older than Tracy himself, but if you're going to make the effort to put Tray at the forefront of the episode, how about you actually showcase him?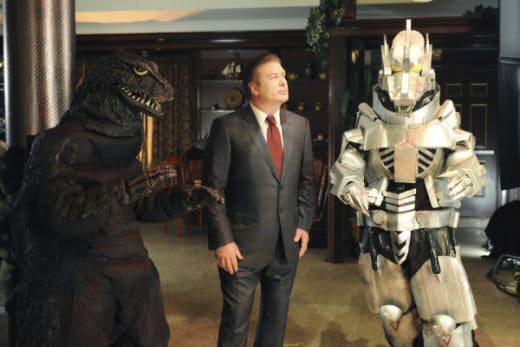 The plot of Donald taking advantage of Tracy was all well in good, in that Morgan and Washington play off of each other nicely, but I would have rather seen more Tracy (I know, I know: what else is new?).
Elsewhere, Jack's daddy issues are always more interesting than his mommy issues. Of course, this is because his mom issues usually mean the terribly annoying character of Colleen Donaghy is in the building.  This week, Jack got to cry about his dad while Kenneth cried about his pig father that he ate in a contest long ago.
Of course, both of these quasi-father problems came up because Liz was having issues of her own, once again relationship induced.  Although it never came up in her discussions with new therapist, Kenneth Parcel, maybe her problem with her boyfriend is that his full name is Carol Burnett! Or is it Burnit? 
That's how Kenneth was saying it anyway.  What are the chances that it was planned to have his last name be Burnett from the time he was introduced?
The story line with Jenna is exactly why I hated her last season.  You see, Tracy having a fake son that is two years older than him but calls him daddy is weird... but funny.  Jenna having a boyfriend that dresses up like her and does strange sexual things with her is just weird and gross. 
Still, there were plenty of great 30 Rock quotes from the half hour. We've compiled a few below:
Kenneth: It was Harold, and I ate all of him. Even the face in case of a tie. I ate him sir! I ate my father pig! | permalink
Jenna: Last night was a disaster...and not the good kind where I get to sing at a benefit. | permalink
Liz: Anyone I ever dated in high school turned out to be either gay or a girl dressed as a guy to get a journalism scholarship. | permalink
Hobo: Hey get a room! Whatever that is. | permalink
Jack: I'm tired of talking this much to a woman I'm not having sex with. | permalink
Paul: I'm saying, adopting a dog so it can watch us make love and then returning it, claiming that it bit our imaginary child, is everything that I need, but if that's not enough for you tell me now. | permalink
Dan Forcella is a TV Fanatic Staff Writer. Follow him on Twitter.