While "Dark Matter" wasn't my all-time favorite episode of Nikita, we definitely saw another side of Percy on it.
And it was a side far worse than we could have imagined.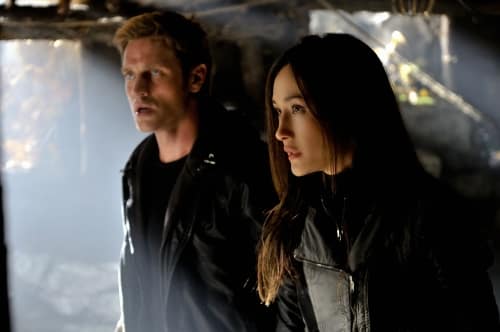 Elsewhere, if Michael shooting full force at Nikita and company wasn't proof that he's fully against her, I'm not sure what could be.
I can feel the chemistry between Owen and Nikita, so I'm pretty sure he's the love interest that's been rumored for her. Their chemistry doesn't even rival her and Michaels, but it's there.
Jaden is a really irritating character, and I would love if she would serve her purpose every episode like she did last episode: as Alex's blackmail subject. During this hour, she just made it that much harder for Alex to get to the Engineer and out from her escape hatch.
Not that I don't already expect chuckles when it comes to Birkhoff, but to see him playing video games with the Engineer instead of encrypting files for Percy was hilarious. The fact that he's a sore loser made it that much more comical. Unfortunately for Birkhoff, he's now been promoted by Percy after watching him kill the Engineer. I'm worried for Birkhoff.
I'm keeping my fingers crossed that Fletcher will be able to get that Division proof out in the open, as it will serve as a major stepping stone in bringing down Division.
What did you think TV Fanatics? Are you open to a romance between Nikowen, or are you staying on team Mikita?