CSI: NY Review: "To What End?"
at . Comments
On Friday night, "To What End?" explored the consequences of having done the right thing, and while the sentiment was in the right place, it came a bit too late in the episode to really be appreciated on CSI: New York.
I was highly focused on the scary clowns at the beginning of the episode, much relieved that the clown jokes didn't go too far, and no one in the cast said, "Send in the clowns."
The clowns worked as a flashy entrance into a mystery, but the opening flash sort of fizzled as the story began to unwind.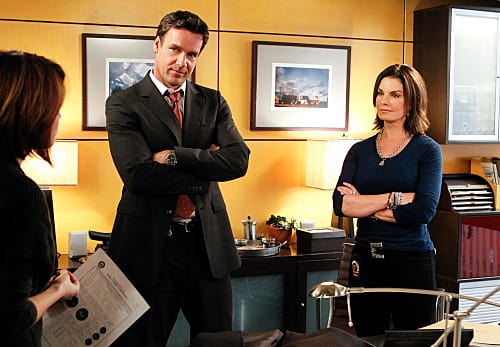 I can see that the heart of the story was meant to be an examination of what it means to do the right thing, and for Detective Flack what it means to convince people to do the right thing.
The flashbacks of Flack trying to convince a witness to testify against drug dealers came almost too late and were hard for me to sink into emotionally after the distraction of Jo Danville's ex-husband was introduced.
There probably isn't a chance that tonight was the last the audience will see of Agent Russ Josephson, but I wasn't left with a good impression of the character. There's a bit of a stalker vibe when someone refers to his divorce as merely a separation. It's slightly creepy, not at all endearing, and from the delivery of the lines did not feel like playful banter.
I found myself mimicking Jo's exasperated reactions towards her ex, which I took as a bad sign. I really hope the writers don't rush into trying to develop a romance for Jo so soon. I think the audience needs to get to know her a little better before we follow her on the path to either rekindling an old flame or starting up something new.
There were some neat evidence experiments. Ballistics' gel is always fun to see, but the use of liquid nitrogen to obtain a finger print from white clown make-up was really cool to watch.
Flack's mighty super hero leap at the end of the episode to stop the witness turned murderer, Bobby Renton, was also quite impressive. Though I have to wonder how both men could come out of that without any injuries. I understand this sort of has a rule of cool attached to it, but it tugged at my suspension of disbelief just enough to call it into question.
Overall, this was not the strongest episode, and it was not the weakest. There was room for improvement for sure. I think, specifically, if the audience is to be pulled into an emotional story it needs to happen early on with few distractions, otherwise it's really hard to connect and care about the characters' plight.