Jersey Shore posed an interesting question in its third-season opener last night. How many times can one watch the same gag, even if one enjoys said gag, before it gets stale?
The answer is perhaps not as many as MTV would hope.
The whole thing felt stale - and this is from a site that prides itself on its Jersey Shore quotes section - from the opening montage, which was pretty much the same as last year's.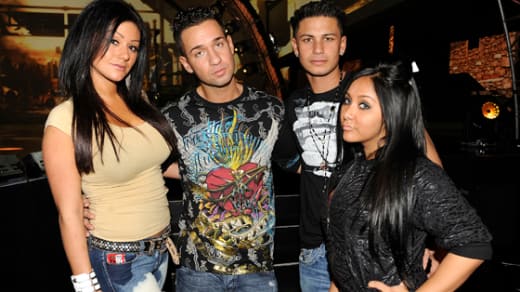 Back to the shore ... for what it's worth.
Part of the appeal, of course, is that these cast members are who they are. These are not the deepest thinkers on the planet. They do GTL, make dinner, then party and hook up.
Throw in some hilarious acronyms and we're good to go, right? For a time. At some point, even ardent fans will tire of watching them drink, dance, fight and exchange bodily fluids.
Not even new cast member Deena Nicole Cortese can spice it up enough when the tension of the night was basically a recreation of the same old Sammi/Ron vs. the house divide.
Of course, Deena did her best to try. It's great to see her come in, get wasted and try to get with The Situation (he declines, by some miracle) within the season's first half hour.
Here's a quick synopsis of the rest of the "drama" ...
JWOWW shares a tense goodbye with boyfriend Tom.
JWOWW and Sammi have an awkward first encounter.
Sammi distances herself as peeps get to know Deena.
Ronnie and Sammi choose to isolate themselves.
Sammi confronts JWOWW and Snooki about the note.
Pauly D and The Situation watch the girls' fight.
There you go. That about sums it up. Until next week, when hopefully things are (a little) more interesting, we leave you with some of last night's top Jersey Shore lines ...
Snooki: Even though we're tiny bitches, I don't give a sh!t ... I will f*%kin' attack you like a squirrel monkey. | permalink
Ronnie: Listen bitch, you don't f*%kin' know me, you're in my f*%kin' house! | permalink
Deena: I tried to be nice to [Sammi]. I hope she rots in hell. I will f*%kin' knock her out. | permalink
The Situation: The answer is ... day one, I had to pull the eject button. | permalink
JWoww: [to Vinny] Stick it in one of the jet holes. | permalink
Sammi: A walking holiday? What does that mean? Are you gonna give out candy? Like I don't get it. | permalink
Snooki: I have Vinny in the house now, maybe I don't need the vibrator, we'll see. | permalink
Ronnie: Snooki walks in the door with this Gremlin look-a-like and she says she's the new roommate. | permalink
Deena: I can't wait to blow the f*%kin' speakers off this house... and don't tell anyone I'm drunk. | permalink
Snooki: When I see everyone drinking with me it's like Hallelujah, Hallelujah! | permalink
JWoww: I hope they get a f*%kin' incurable disease living up there. | permalink
Vinny: Like a monkey has to go to the f*%kin' jungle, I belong at the Jersey Shore. | permalink
Snooki: I'm so excited to get back into my house, pop some bottles and hook up with my roommates. | permalink
Steve Marsi is the Managing Editor of TV Fanatic. Follow him on Google+ or email him here.