Even during unspectacular, standalone episodes such as Tuesday's "Ships in the Night," there are few shows as consistently sharp, thought-provoking and funny than NCIS.
This installment didn't offer much in the way of advancing ongoing character narratives, nor was it particularly complex or high-stakes as far as the murder mystery went.
Nevertheless, a better hour of television is hard to come by.
McGee, Gibbs and Abby 2.0 down coffee and pursue suspects.
The title, "Ships in the Night," proved literal as CGIS Special Agent Abigail Borin (Diane Neal) was on board a dinner cruise on the worst blind date ever when a murder occurred.
Considering the dude she was with, one percent of her was likely glad it did.
What followed was an old-school case of sorts. Tony even acknowledged the slow-developing nature of the classic "whodunit" with movie quotes (obviously) and Clue references.
The chemistry between Gibbs and Coast Guard Abby may not be romantic, but it's great. When he said he'd see her "this time next year," you can only hope so, if not sooner.
Not only is her name Abby, but she even has her own rules. Watching Gibbs work with his own female, CGIS equivalent is a treat to watch. He does have a thing for redheads ...
She does seem like the type he would date. Just saying. Maybe next season.
The death of Navy Lt. Patrick Nolan on the boat was hard for the team to pin on anyone. Plenty of suspects, questionable motives, no hard evidence. Where did that leave them?
In the end, it was the breaking of Gibbs' Rule #1 - never put suspects together - that saved the day. If it worked like this every time, that rule would be stricken from the book.
You wonder if real law enforcement would ever pull such a stunt, and if it would be successful. Those three miscreants turned on each other so fast, it was almost bizarre.
The Lieutenant, who left the family business to serve his country, was whacked because he stood to inherit his father's company, which he planned to transform into a charity.
His socialite sister, the company CFO and their lawyer weren't having it.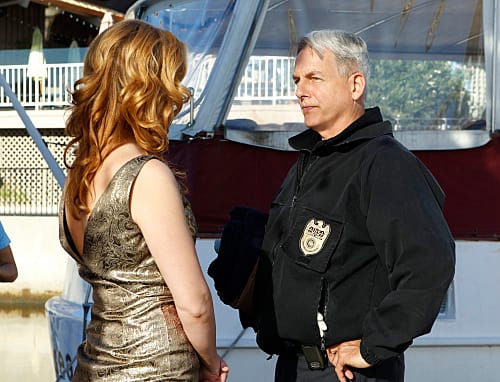 Nothing like a redhead in a gorgeous dress ... covered in blood.
Before they could pin the killing on that trio, an angry ex-Marine and a well-known D.C. playboy dating the deceased's sister were also suspects who took up the team's attention.
That led to some great discussions about celebrities and fame in the 21st Century, from Ducky's historical perspective to Gibbs having no clue what "viral" meant in that context.
There was also an entertaining, running gag between over Tony and Ziva's sleep deprivation and comp time. Could DiNozzo really not know he's entitled to it? And how jealous is he?
As always, regular Abby was tremendous as well, adding unique flair and forensics expertise, which, given the unusual circumstances, played a particularly big role this week.
If there were an NCIS mascot, she would definitely be it ... though we're a little scared about the Caf-Pow record if the carnage on the table last night wasn't even her maximum.
Final thoughts and observations ...
Think Gibbs gets Starbucks gift cards for Christmas and nothing else?
Borin's Rule #1 is never make excuses. They should compare notes.
"We've gone from Socrates to Snooki." - Ducky
"That is why it is called a batnap." - Ziva
Skippy kind of suits Tony, no?
What did you think of last night's NCIS? Discuss!
Steve Marsi is the Managing Editor of TV Fanatic. Follow him on Google+ or email him here.