The Real Housewives of Beverly Hills Review: "Turn, Turn, Turn"
Kelly Lynch at .
With one more episode to go in the inaugural season of The Real Housewives of Beverly Hills, most of us can walk away really digging Kyle, Lisa, Taylor, Kim and Adrienne.
And after last night, perhaps Camille.
Things kicked off with a quiet dinner at Villa Blanca for Kyle and Lisa. Then Kyle, who so rudely placed her cell phone on the dinner table, answered a text from Taylor.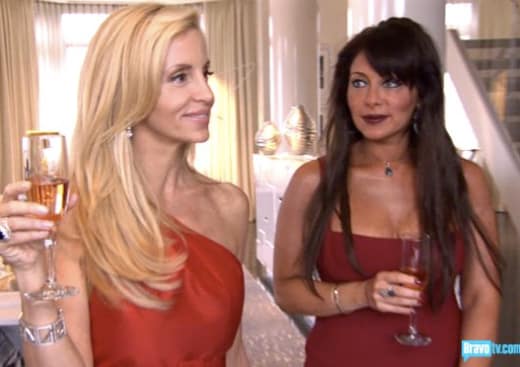 Drippy Russell was going to drop Taylor off so she could crash Kyle's dinner with Lisa. Pish posh ($20 says he didn't even put the car in park when she got out of the car. It just kept a rollin' so Russell could make his Drips Anonymous meeting).
Not one to let this go unnoticed, Lisa told Kyle she doesn't think Taylor can be trusted. After all, Taylor was the last person to be seen with Camille before she started round 2 in New York. 
Did Taylor stir the pot while the other girls were getting ready for dinner? Hmmm.
But Lisa let us down and didn't inquire about Taylor whereabouts leading up to the Serafina showdown.  nstead, she reassured Taylor that it's ok to be completely miserable in her marriage. Just don't cover it up with humor. That's just irritating.
One of the biggest story lines of the episode was Camille's impending divorce from husband Kelsey Grammer. Back in July that the Grammers announced their split, and it was quite evident throughout the season that Kelsey was just not that into Camille anymore.
Last night Kelsey carefully plucked Camille from his tailcoat and placed her on the other side of the country for good. No more visits in their tiny 3500 square foot abode on the UWS. No more uncomfortable interactions after spending weeks apart.
From his interviews (whining about how difficult 13 years of marriage have been) to a completely separate life in NYC, it was VERY obvious Mr. Grammer had checked out.
Cut to Kyle Richards and her daughter Farrah.
This was an especially sweet part of the episode to watch, as Kyle was so proud of her college graduate. Kyle had Farrah young, then met HOT Mauricio, and now she has this fantastic life where her kids are smart and cute, and her husband is superfine.
Life is good. Especially when the associates at XIV Karats worship the ground your bank account is built on.  Don't count your chickens yet, viewers.  We still have the finale next week, followed by a two-part reunion special which will not disappoint.
For much more, read our full recap of The Real Housewives of Beverly Hills!