TV Fanatic Exclusive Interview: Pauly D Talks Tanning, Fame and the New Season of Jersey Shore
Gabrielle Compolongo at .
Jersey Shore is one of the more successful reality shows in recent years. It is also one of the most controversial, but there's not much to dislike about Pauly D.
With the new season kicking off tomorrow on MTV, he spoke with TV Fanatic and our celebrity news counterpart, The Hollywood Gossip, exclusively this week.
Pauly tells us what we can expect in Season 3 - including a term that will surely go down among the best Jersey Shore quotes - and much more in this Q&A: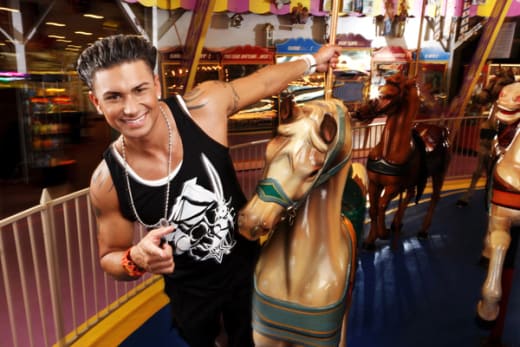 Life's a merry-go-round for Pauly D.
You seem like the most genuine, friendly person in the Shore house. Is that just your nature, or do you think everyone else is just that much more crazy?
That's exactly how I am. I went on the show just being myself, and how I am back home. The funny thing about that is all of my friends back home love watching me on television because everything I do with the cast is everything I do back home.
The things that I say, the things that I do, it's just like watching me hang out with them, only I'm hanging out with the Jersey Shore people.
You're famous for your antics on Jersey Shore, but you're actually from Rhode Island. Can any New England beaches match the craziness of Jersey?
Yeah, we've got some beaches on Rhode Island that are just as crazy as Jersey. We have the Newport Atlantic Beach Club (ABC), which reminds me of the Jersey Shore, it's just like it.
There's clubs out there, and we have a little bit of a boardwalk, it reminds me of Jersey, and that's how I compare it to Rhode Island. In the summertime people go crazy at the beach and the clubs and just want to have a good time just like the shore.
Are you still involved with the girl from Florida?
We still keep in contact as friends, she texts me once in a while. She actually texted me the other day. She's a real nice girl; we just lost a little contact after the show ended. Now that the reruns were on and she was watching MTV she started texting me again saying she missed me and wants to see me again. I'd love to see her again, she's a cool girl. Who knows what will happen.
You guys are coming back to Jersey for Season 3. How will that differ from the first season there?
The first time in Jersey we had the cameras and everything and people knew we were filming something, but nobody new what it was. Now this time going into Jersey 3, everyone knew what we were filming so there was paparazzi and people waiting outside of the house, so they had to beef up the security and block all of that out. The 495 production crew does a wonderful of doing that. We had some paparazzi in Miami and you wouldn't even know it watching the show because they block it out.
Please tell us Angelina won't be back.
Oh no, Angelina is definitely not back. Nope. We actually have a new roommate, Snooki's friend from back home, Deena. She's a great roommate because she has the same attitude that I have, she's carefree, just wants to party and have a good time and take advantage of the shore. I get along with Deena well. She reminds me of Snooki, she's a little wild party girl; same height and everything.
Who is responsible for all the hilarious terms, you or The Situation?
I think it would have to be me. I came up with "T-shirt time" and "the cabs are here!" When you're filming in this house and you have eight people and you're waiting for them to get ready, you have to get people going. I would always yell "cabs are here" to get everyone nervous so they'd get ready faster. I hate when people sleep in, so I'm always waking everyone up. I'm a human alarm clock.
Are there any words that we're going to need to know the meaning of this season?
Aw, yeah. I got a ton. I came up with a ton of stuff. The only one I can give you is the one that they showed on the commercial which is grenade whistle. It's this big whistle we got off the boardwalk and we blow it every time there's a grenade in the house. Whenever we heard that noise we knew we had a grenade, and we gotta get her out.
How is your DJ career going?
My DJ career is at an all time high. I've been DJing my whole life. It's my favorite thing to do, it's my passion, I love doing it. Now, the Jersey Shore and MTV have given me an audience to do that for, so now I'm DJing all over the world at the biggest events in Vegas, Los Angeles, New York, all over the world. I'm proving myself to everyone that I am a talented DJ and I've been doing it my whole life, so when they do book me at these venues, not only are they booking DJ Pauly from the Jersey Shore, they're booking DJ Pauly D. So I'll smash it at the club, and then they want to book me again because I did just a great job. I love doing that, I love pointing out the skeptics and making them believers. I just love DJing.
What's been the most surreal part of becoming so famous so quickly?
The most surreal part of this is all of the famous people that know who we are. People whose music I've been playing for years know who I am now. Actors who I've watched in movies know who I am now. They know my name and they want to take pictures with me. Big names like Kanye West, Usher, Rev Run, Diddy, they all know who we are and that's the most surreal thing. I'm still blown away by the fact that they know who I am.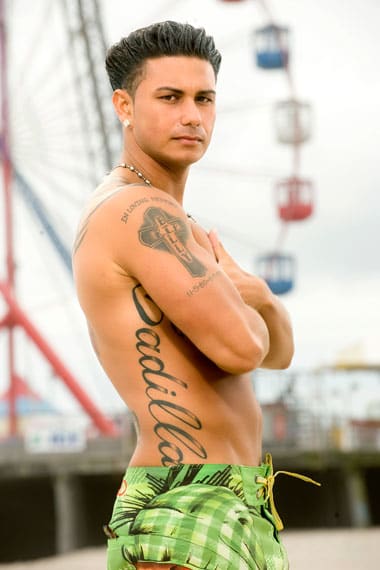 This hair ain't movin', my dudes.
The hair. Can it really withstand 150 mph speeds or were you exaggerating to prove a point?
No, no, no. 150 mph winds is the cap-off. No helmet, doesn't move. The hair is waterproof, windproof, and definitely soccer-proof, I put a soccer ball on it. I give it a lot of tests. (laughs)
I see a Pauly D hair product in your future.
I know right. (laughs)
How much does a top of the line tanning bed even go for?
They range from like $3,000 to $10,000. They've got like tanning beds with iPod docks in them and crazy things. They got me my own tanning bed in Vegas which is a top if the line high pressure bed and that's a really nice one. I don't know how much it goes for but it's the Pauly D tanning bed at Sunset Tan in The Palms Resort and Casino.
Describe the future Mrs. Pauly D in three words.
Gorgeous, funny and loyal.
Is there a spin-off show planned?
There is, and we've filmed a little bit of it already. It's like my own life story, with my roots and what I was doing before the Shore, into my life after the Shore, my DJing career, and my entourage and all of the antics that come along with it. It's a really fun story. It's exciting and funny.
(Note: MTV confirmed the spin-off and discussed it with TV Line)
Finally, we love your "It's T-shirt tiiiiime!" voice. Can you announce TV Fanatic like that for us? Just once?