Now that was an episode of Archer!  Starting with this week's "Blood Test," we're really get a feel for where Adam Reed plans on taking this show's sophomore season.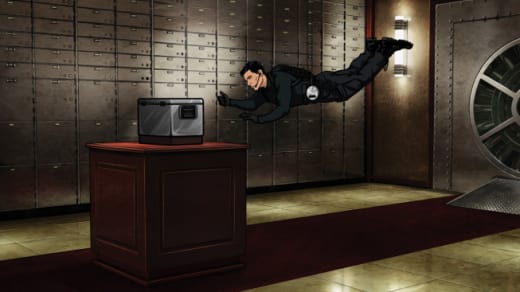 After the first season spent the whole season with a series of hilarious missions and just a couple underlying story arcs - the identity of Sterling's father and Cyril's sex addiction - we start to see Reed adding more layers to season two.
This time around?  First, we're introduced to the wee baby Shamus, who thanks to an a candy wrapper and an ill-conceived plan by Malory and Sterling, will definitely be sticking around in the form of some child support and the occasional hilarious custody.
Second, we start to dive more into characters' back stories.  While this episode really only featured a brief insight into Woodhouse's heroin addiction, his past will continue to be fleshed out over the season.
In addition to starting to develop the arcs of season two, what would an episode of Archer be without plenty of recurring jokes, obscure references, and some good old fashion inappropriate adult humor?
With plenty of references to turtlenecks, some obscure references to Emily Post and Of Mice and Men, and perhaps the funniest scene ever with Trinette and Archer in bed, this episode had it all.
I hate to keep beating it in, but having seen the next several episodes of Archer, I can tell you the season will only continue to improve.  So continue to tune in and be sure and pop back in this afternoon with our round table.
In the meantime, you can spend hours going through our extensive collection of Archer jokes and quotes.  I'll leave you with some of my favorites:
Archer: What do you even do here? Sit on your ass and analyze data? Well I'm a field agent, Isaac Newton. I risk my life. So yeah, I do deserve the best space in the parking garage. Like it would kill you to roll fifty feet? The stupid thing's electric. | permalink
Trinette: I'm retired.
Archer: Yeah, your 401(k) doing that well?
Trinette: I have a SEP, smart ass. | permalink
Trinette: Wait a minute. You liar, this isn't a condom wrapper! It's from a friggin' candy bar.
Archer: So? Sometimes I like to treat myself.
Trinette: Well, sometimes I like ovulate.
Archer: Well, I have to sleep, so do it somewhere else. | permalink
Lana: Is that a friggin' candy bar?
Archer: Yeah, but do you think you need the calories? | permalink
Eric Hochberger is the programmer of TV Fanatic, so please forgive his mediocre writing. His programming is far better. Follow him on Twitter and/or email him. Just don't request threaded comments. They're coming.